The journey of coffees from farms in southern Vietnam to farmers markets in San Diego has taken a new turn into the first brick and mortar coffee shop by 11-year-old Saigon Coffee.
Saigon Coffee Founder Tu Duong told Daily Coffee News that the layout of the bright white 500-square-foot shop was inspired by the In-N-Out Burger model: simple and clear, allowing for customers to file through and order with ease.
Meanwhile, the walls of the new North Park shop burst with colors and images celebrating the company's Vietnamese roots.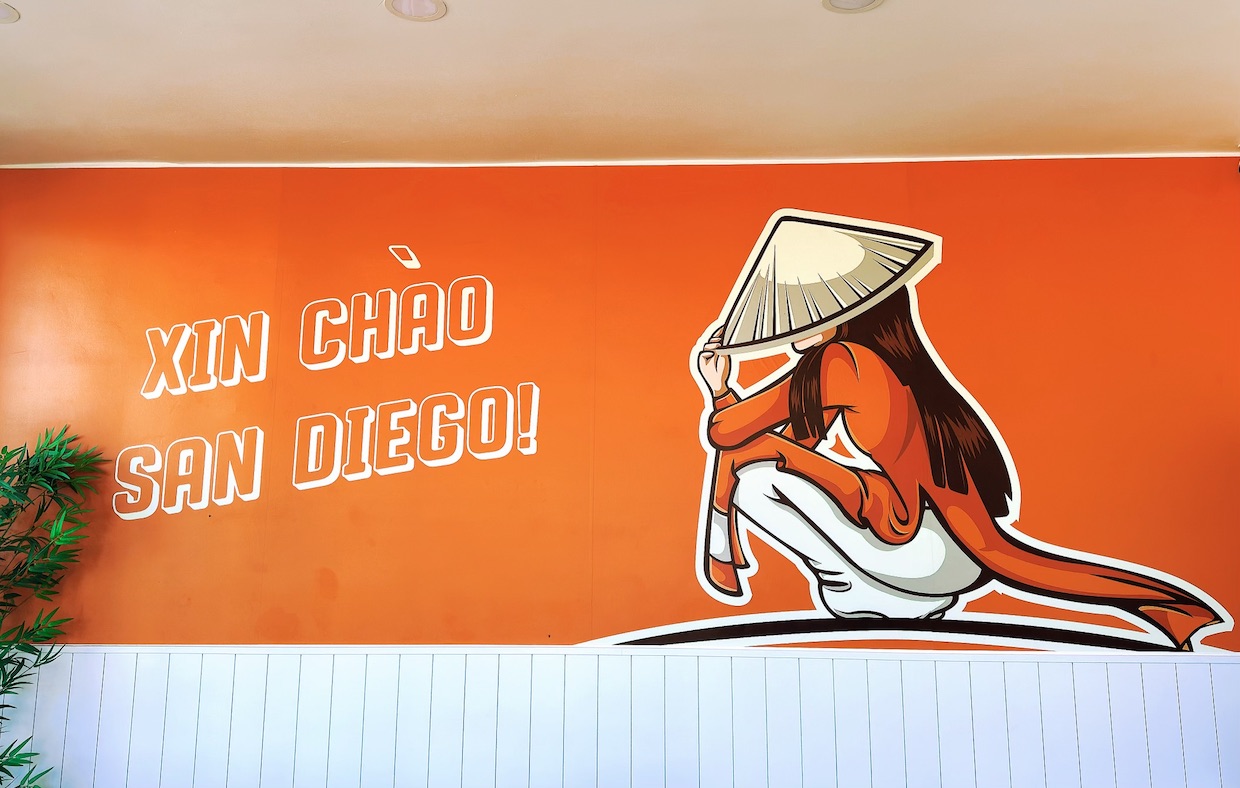 "We are very Vietnamese inside the coffee shop," Tu Duong said. "We have incorporated murals with retro images from 1970s Vietnam, and we even have a big mural that says 'Xin Chao San Diego,' which means 'Hello San Diego.' You really get to experience the Vietnamese coffee feeling."
With an existing love of phin-brewed coffee, Tu Duong moved to San Diego for college in 2010 from Vinh Long, Vietnam, just south of Saigon. Finding few public options for phin brews in Southern California, she was determined to fill the void, launching Saigon Coffee with a stall at the Hillcrest Farmers Market and since expanding to other markets.
The new cafe is being managed by Tu Duong's brother and business partner, Vinh Duong.
At all locations, the company specializes in serving Vietnamese-grown coffee brewed the Vietnamese way, but with California King-sized equipment to pick up the pace of service. Duong sourced the unusually large brewers from a specialty manufacturer in her home country.
"It is the only place we could find in the world that makes phins of this size, and it makes our business and special process possible," said Duong. "In Vietnam, the vendors typically use a small phin and make each coffee to order, but that means the customer has to sit and wait for the coffee to brew at their table, and that can take 15 minutes or more. By using the large phins, we can create small batches and pre-mix our coffee so it's ready to pour over ice and serve the customer immediately."
The brand's signature phin brews are now made within a glass-walled brewing booth in the new cafe, where 20 super-sized brewers turn out three-quart batches of concentrated brew throughout the day.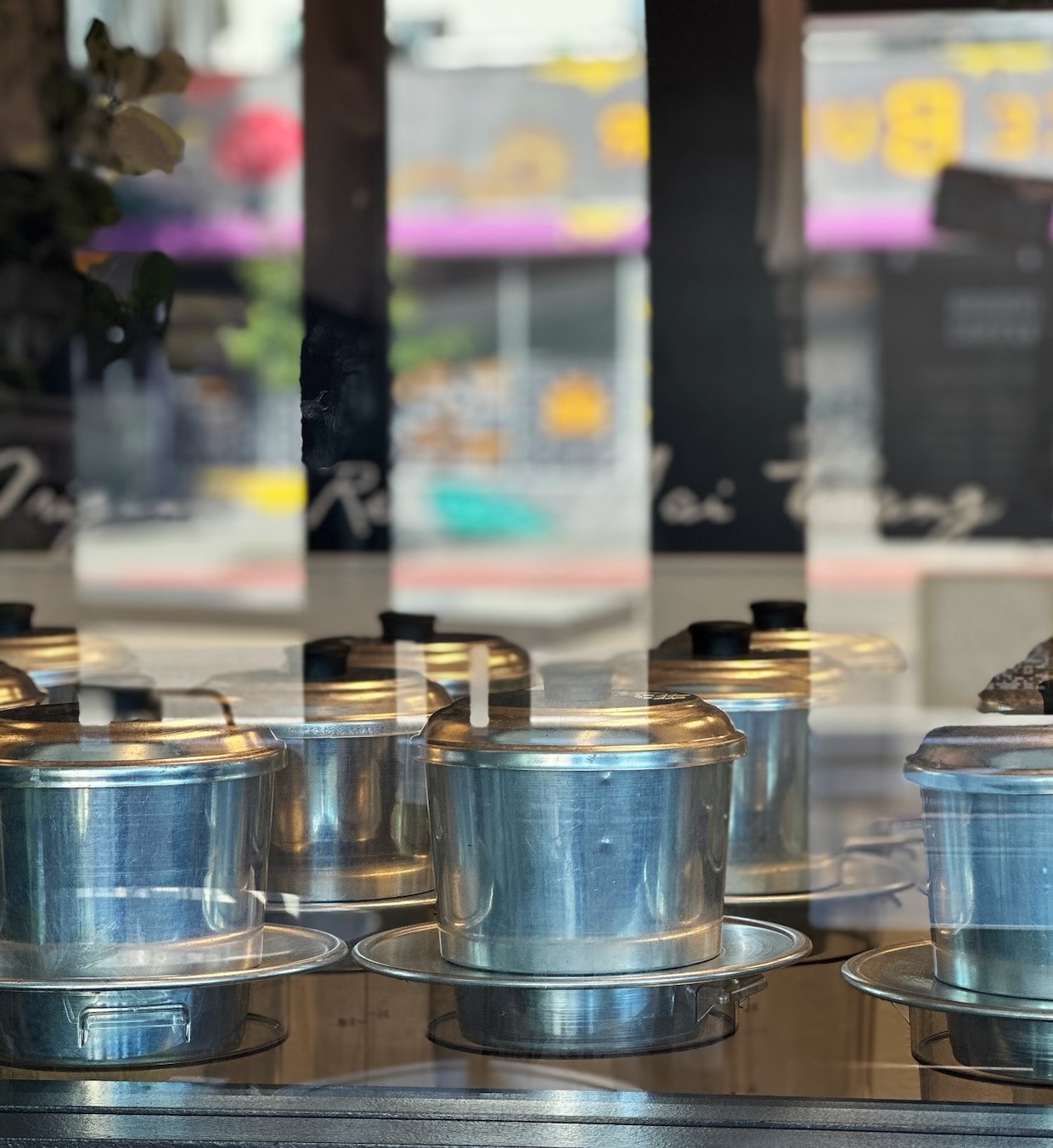 "The combination of the very hot water and allowing it to soak through the coffee very slowly means that we extract all of the flavor from the coffee without it ever getting any burnt flavor," Duong said of the brewing process. "It also makes the coffee thicker and more caffeinated than if you were using a machine or other process."
Sweetened condensed milk is added to the dense brews for the company's signature Original Saigon Coffee drink. Phin brew mixed with coconut milk is another menu option, as is a Hanoi-style drink of coffee mixed with whisked pasteurized egg yolks. The company works with a local supplier that sources and roasts its single custom blend.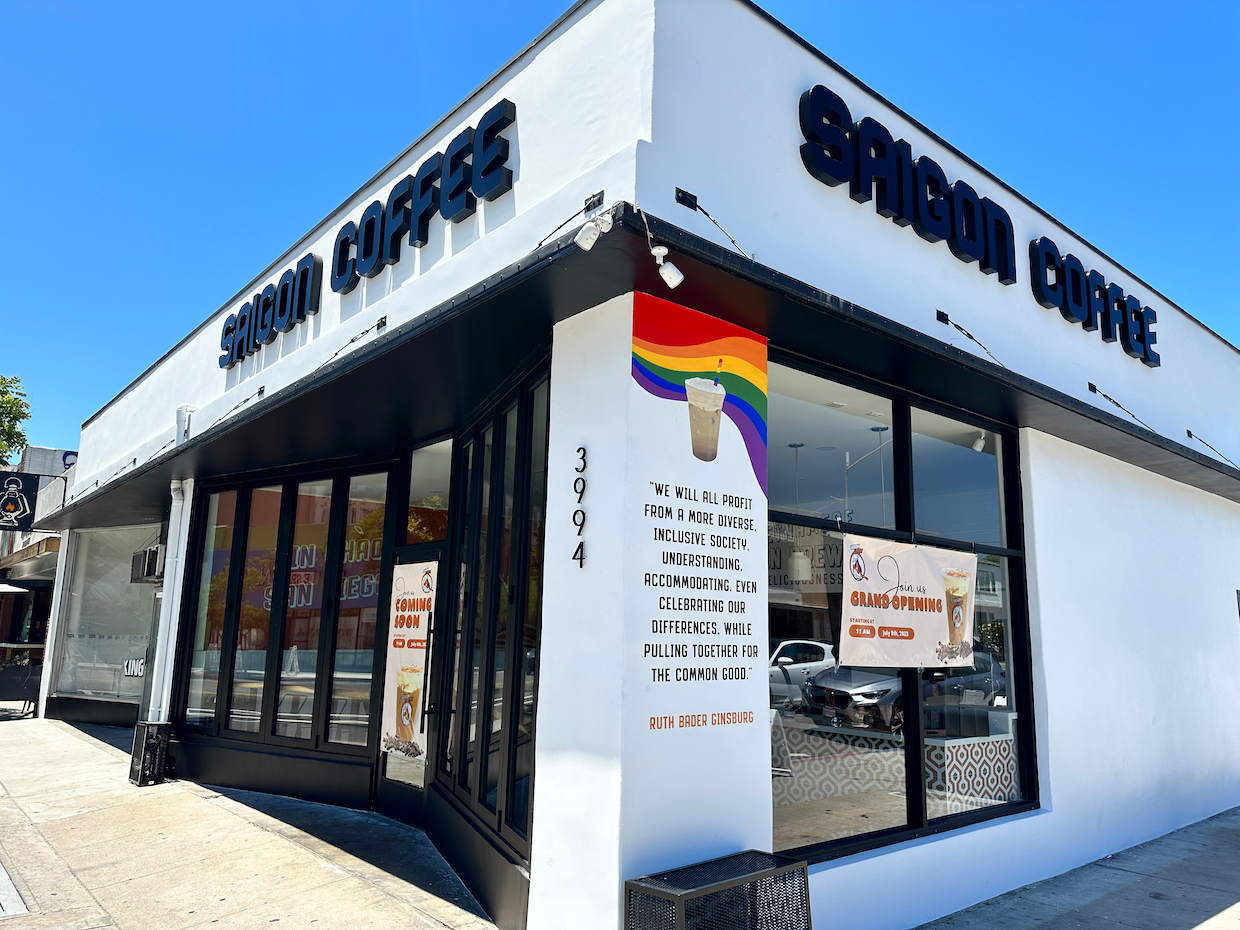 "We want to just serve our loyal customers in a way where we can keep our very high quality and unique experience," said Duong. "We just want to blow people's minds about how great and fun Vietnamese coffee can be. We want to keep that 'farmers market' local type of feel to our product and what we do."
---
Saigon Coffee is located at 3994 30th Street in San Diego. Tell DCN's editors about your new coffee shop or roastery here. 
More From DCN
Howard Bryman
Howard Bryman is the associate editor of Daily Coffee News by Roast Magazine. He is based in Portland, Oregon.