Meet Adwaith Menon, affectionately known as Addy, a 29-year-old skilled coffee professional hailing from the picturesque region of Kerala, South India. Currently residing in lively Lyon, France. Addy has slowly immersed himself in the world of coffee for the last 4 years. He learned how to make the best flat whites while working in New Zealand. Currently, he has the duties of Manager and Head of Coffee at Slake Coffee where he still finds time to charm customers with his barista skills and hospitality.
Addy is also an avid coffee competitor! He secured victory in the regional AeroPress competition and triumphed in several latte art competitions, showcasing his latte art skills both with and without dairy milk.
But this is just the beginning for Adwaith Menon. Ever the ambitious learner, he has already greater goals in mind. With plans to obtain more SCA certifications and become an AST (Authorized SCA Trainer), Addy wants to educate and inspire aspiring coffee professionals. He also wants to challenge his skills further and hopefully shine one day at the World Latte Art Championship stage!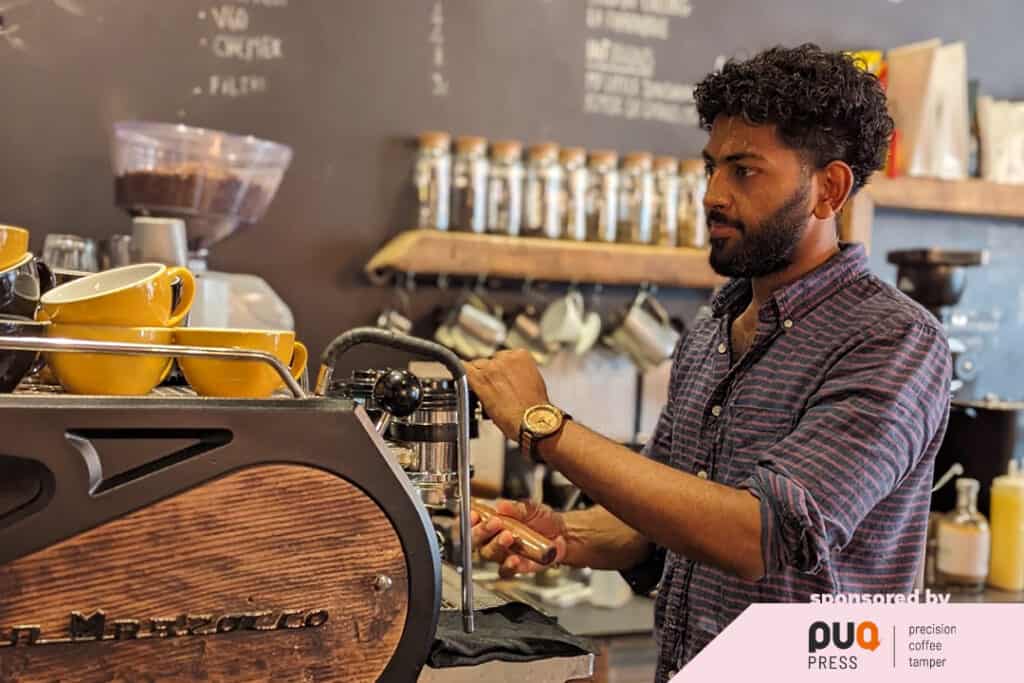 Addy, what is your first memory of coffee? 
I come from Kerala, a really tropical part of India nicknamed 'God's own country' for its natural beauty. In the south of India, we have a specific type of coffee called 'filter kaapi'. It is made by mixing hot milk and sugar with the infusion obtained by percolation brewing finely ground coffee powder with chicory in a traditional Indian filter.
The memory that strikes me as one of my very first coffee experiences is sipping this really hot, sweet and flavourful 'filter kaapi' during an afternoon in the monsoon season with heavy pouring rain outside.
​​​​​​What inspired you to pursue a career in the coffee industry, and how did you get started? What did you do before coffee?
I started my career with a Bachelor's degree in Hotel Management. I was working in luxury hotel chains to do my Masters in International Hospitality Management. Then I decided to go to New Zealand. I had no clue about the immense world of coffee that was waiting for me there.
As coffee is omnipresent in the country, even though I started working part-time in a hotel, I had access to a coffee machine. Slowly I was able to learn the basics of coffee preparation. After my studies, I decided to move to work with standalone restaurants that put a bit more emphasis on their coffees.
After spending 4 years in New Zealand, I moved to France for love. By then I had already made the decision that the only reason to continue working in hospitality is to work in coffee. Even though the love didn't last, my love for coffee only grew and here I am!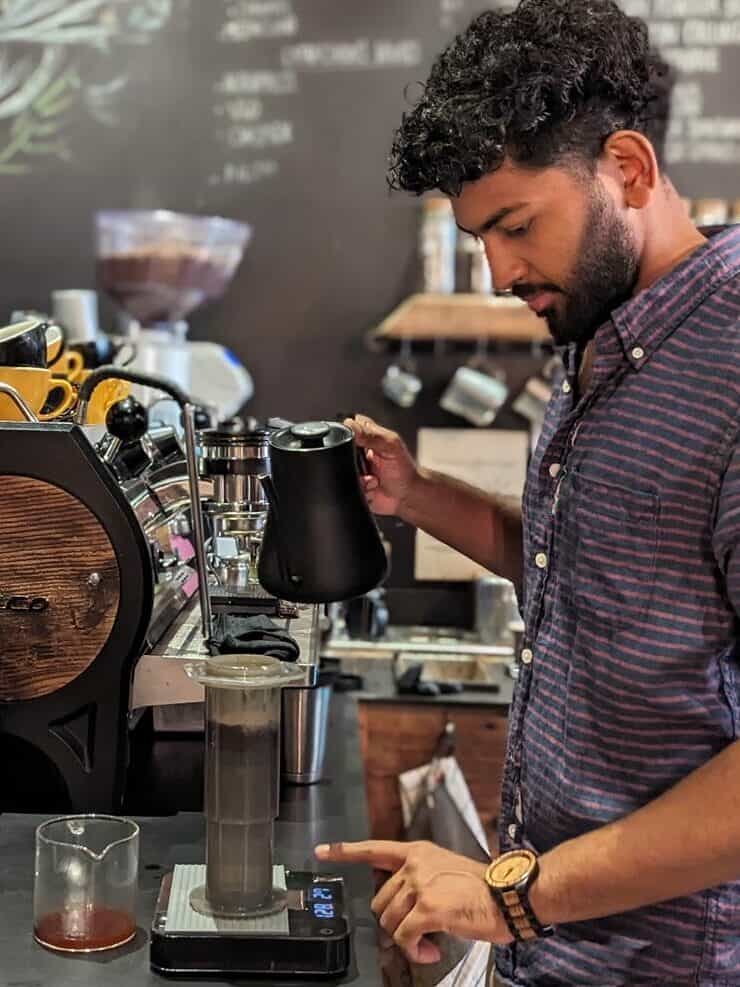 Tell us a bit about the place you work at. What is your role there?
I work at Slake Coffee in Lyon. When I moved to France, I didn't speak the language. Still since we have a lot of tourists as customers, I was able to get a job as a barista. Thanks to the coffee shop and the incredible people I work with, I developed my language skills and along with it my knowledge and expertise in coffee. As of now, I work as a Manager and the Head of coffee for Slake Coffee. 
What kind of experience do you want your customers to have when they visit you at the cafe?
At Slake Coffee, as we do not roast our own coffee, we have the luxury of working with incredible roasters all across Europe. We have a base local roaster Mokxa and we get guest coffees every month.
I would like customers visiting our coffee shop to be able to enjoy coffee from around the world. Expertly brewed by our skilled baristas and the food to go with it that is all housemade by our skilled chefs.
What is your favourite part of the day in your cafe, and why?
As the manager of the coffee shop, I can't (unfortunately) be behind the machine at all times. My favourite part of the day is when I take on the coffee machine where I could pour some lovely latte art or when I get to brew some of the incredible coffee that we offer. 
How do you stay motivated and inspired to keep improving your coffee-making skills?
Since Lyon is not a really big city and as the coffee scene started growing exponentially recently, we have a small community of baristas and roasters in Lyon that would like to improve the coffee scene in the city. It is a great privilege for me to be able to exchange with other passionate people that invoke curiosity and keep me motivated.
Also, since last year I have started competing in local coffee events and attending coffee shows. It is a really fun way to keep me inspired and also an occasion to meet other talented people and be updated about the changes and innovations in Coffee. I had the opportunity to visit the World of Coffee, Athens, Amsterdam and Paris Coffee Festival in 2023. I had the chance to meet producers, roasters and baristas from all over the world and witness their passion in action. 
Addy, you're incredibly skilled and passionate about latte art. What about it is so compelling and appealing to you?
As I started my coffee journey through restaurants that serve coffee in New Zealand, where there is a big consumption of flat whites, I had the opportunity to be able to practice some incredible latte arts that I saw on Instagram to serve to my customers. Since I was self-learning, it took me a bit of time to get the basics right and as I am someone who likes challenges in general it's something that kept me motivated. Every flat white that I did was a blank canvas for me, where my only limitations were skills and imagination yet both expanded simultaneously with time.
Ever since I started working in Slake, I had the opportunity to work with a barista more talented and that pushed me to grow. I have recently gotten into doing complicated latte art that requires dry foam mastery and latte art with non-dairy milk which is another challenge for me that keeps me on my toes when it comes to latte art.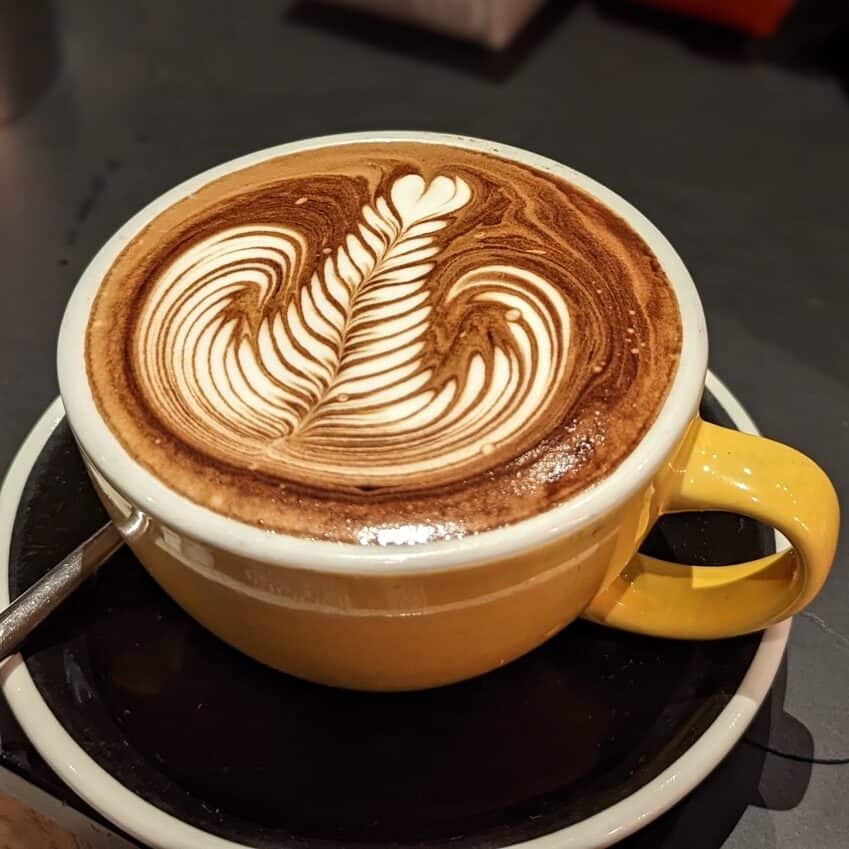 What are the current trends in cafes in your region? Are there any trends you promote yourself and would like to see more often in other places?
There is a really growing number of local roasters in Lyon and in France which is really great. But I find that most of them are obliged to work with big importers due to a lack of resources and economic reasons.
Having had discussions with producers from South America and some other parts of the world, I understood that the producers are keen to work with roasters directly. Rather than going through corporations to convey their passion for coffee. We have very few roasters that work directly with producers and I think it makes a big impact in the bigger picture.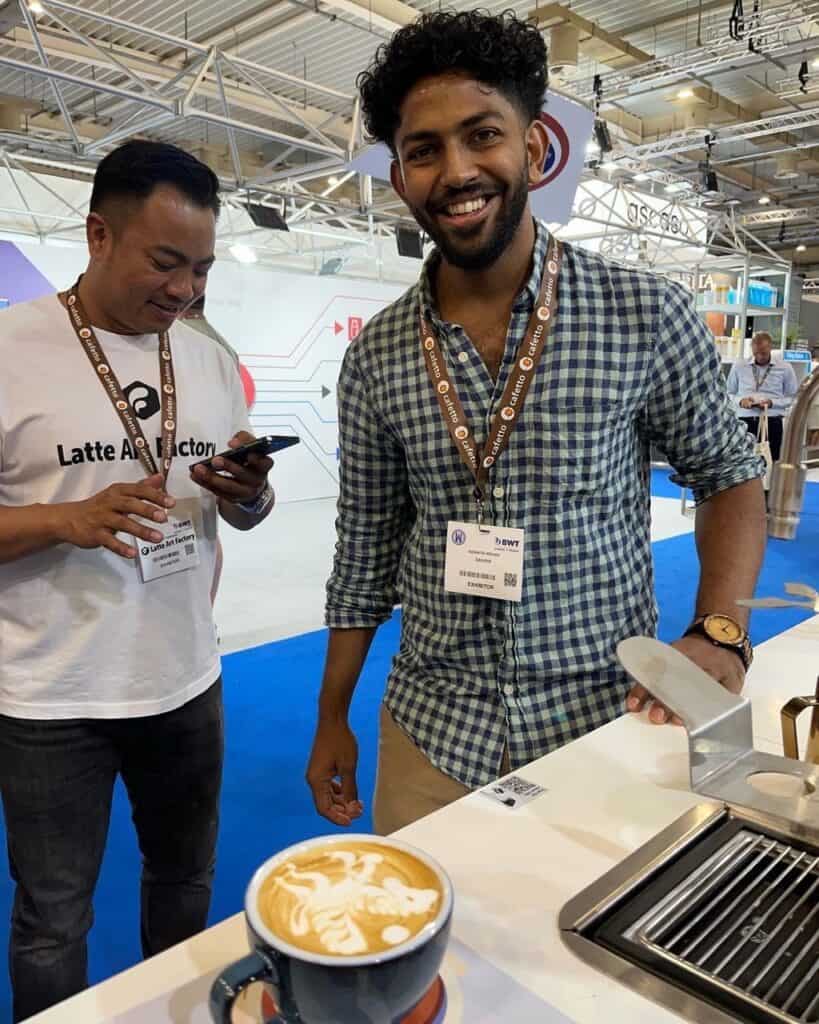 Can you tell me about a time when you had to train a new barista? How did you approach the training process and what did you focus on?
Training new baristas is a really cool part as you get to share your passion and vision with someone else.
My approach for training new baristas starts with a brief theory lesson where they get to understand why we are doing things the way we are doing and what separates a specialty coffee/coffee shop from others.
The second step involves being able to correctly extract shots following a preset recipe and use the machine with standard practices. I try to not overload the baristas with information. Especially in terms of dialling in coffee, since it can be a bit hectic.
The third step involves familiarizing them with steaming milk and pouring milky drinks with evenness as required for the different drinks. I like them to understand how the milk works first with time and practice and then give tips to improve their latte art skills.
Once they are comfortable doing all these then I let them into more details on dialling in coffees and also introduce them to pour-overs as both of them involve a lot of care and precision.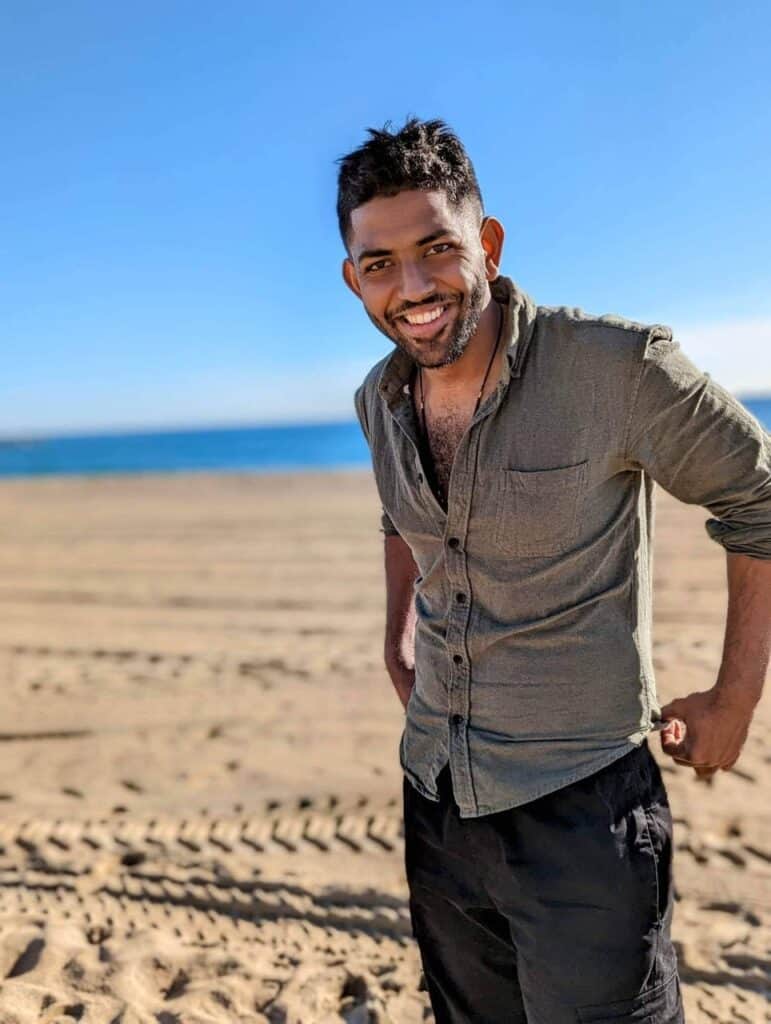 What coffee challenges are you looking forward to? Any new projects or collaborations?
I am really looking forward to participating in the French Latte Art Championship this year. It has been a dream of mine for quite a while now. Then I would like to complete my AST (Authorized SCA Trainer) certification to be able to effectively share my skills and passion with other baristas.
We also have a lot of exciting plans at Slake Coffee! I am really looking forward to and I am always happy to collaborate and exchange with other specialists in the Industry.

Quick Fire Questions for Adwaith Menon:
Would you serve filter coffee with milk if asked for it?
Yes. Everyone has their own taste.
Do you ever take sugar with your coffee?
NO.
Espresso or Filter coffee?
Both.
Do you aim for Sweetness, Acidity, or Body?
All. of it!
Milky or Black?
Black. I do however like to start my day with a mochaccino with a beautiful latte art!
Slurp or Spit?
Slurp.
Sit in or Take Away?
Sit in, I love a good coffee shop vibe.
Favourite piece of barista equipment? 
My milk Pitcher.