Welcome to DCN's Weekly Coffee News. Keep up with all the latest coffee industry stories and career opportunities by subscribing to DCN's newsletter. Tell our editors about your news here.
Coffee Roasters Guild Retreat Registration Now Open
Registration is now open for the 2023 Coffee Roasters Guild Retreat, taking place at the Semiahmoo Resort in Blaine, Washington. The annual gathering put on by the Specialty Coffee Association guild will feature lectures, workshops, roasting competitions and social opportunities aplenty. The CRG and Idaho-based Diedrich Roasters are offering a scholarship to cover the registration of five guests. Early-bird pricing runs through Aug. 31. Here's a look back at last year's Retreat in Southern Wisconsin.
NYC Coffee Groups Hosting July 22 Fundraiser for DR Congo Relief
A group of coffee companies are banding together on July 22 in New York City to raise money for flood relief in DR Congo. The event at Counter Culture Coffee in SoHo will go toward the grassroots response Actions Kehele. The fundraiser will include a pop-up coffee shop, latte art and manual brewing lessons, a cup tasters competition and raffle prizes. Among the sponsors are Willa's Oat Milk, Joe Coffee, Counter Culture, and Mighty Peace Coffee. See additional relief efforts from DR Congo's early summer floods here.
One Stripe Chai Says Yes Plz to Chai Coffee
Portland, Oregon-based chai tea maker One Stripe Chai Co. has launched its first coffee product, Chai Coffee, inspired by the drink commonly referred to as "dirty chai" (masala chai with espresso). The blend incorporates the Homestar Espresso blend from Southern California's Yes Plz Coffee. One Stripe Chai was founded by Farah Jesani in 2018.
JDE Peet's Readying Recyclable Packaging for Instant Products
Global giant JDE Peet's is preparing to roll out recyclable packaging for certain soluble (instant) coffee products. Designed to replace tin or glass options while reducing overall waste, the recyclable packaging is expected to reach the consumer market in 2024.
Ziggi's Signs Nine-Store Franchise Deal in Washington State
Ziggi's Coffee plans to have nine new locations in Washington state as part of a new franchise deal. The new deal follows a separate agreement made last month for 18 new Ziggi's Coffee locations in the Midwest.
Immersive Experiences Launching at Starbucks Reserve Roasteries
Starbucks is launching new immersive experiences at the Starbucks Reserve Roasteries in Chicago, Seattle and New York. The experiences include "Art of the Espresso Martini," "Oleato Tasting Experience" and "Coffee Lab: A Journey of the Senses." The classes are designed to range from 30-60 minutes and cost between $45 and $95 per person.
Kenneth Davids Signing Books at Mr. Espresso Café in Oakland 
Coffee writer and editor Kenneth Davids will be signing copies of his latest book, 21st Century Coffee: A Guide at July 29 event at The Caffè by Mr. Espresso in Oakland.
Heirloom Coffee Launches Regenerative Coffee Research Lab
Oakland-based roasting company Heirloom Coffee Roasters is launching what it calls a "Regenerative Coffee Research Lab." Heirloom was among a small handful of companies to bring the first Regenerative Organic-certified coffees to market. The company is soon to receive 16 electric Bellwether roasting machines through a California Energy Commission grant.
Chris King Launches $150 Espresso Tamper
Chris King Precision Components, a Portland, Oregon-maker of high-end bicycle components and related gear, has rolled out a line of espresso tampers. Available in numerous colors, the tampers sell for $150.
Klatch Coffee Updates Packaging
Southern California-based Klatch Coffee is celebrating 30 years in business with colorful new packaging: red for espresso; blue for blends; and green for single-origins. The 2-pound bags also now feature a resealable zipper. Klatch Coffee began in 1983 and has since grown to several cafe locations throughout Southern California. The company was Roast magazine's 2009 micro roaster of the year.
In Case You Missed It
Here are some of DCN's top stories from the past week…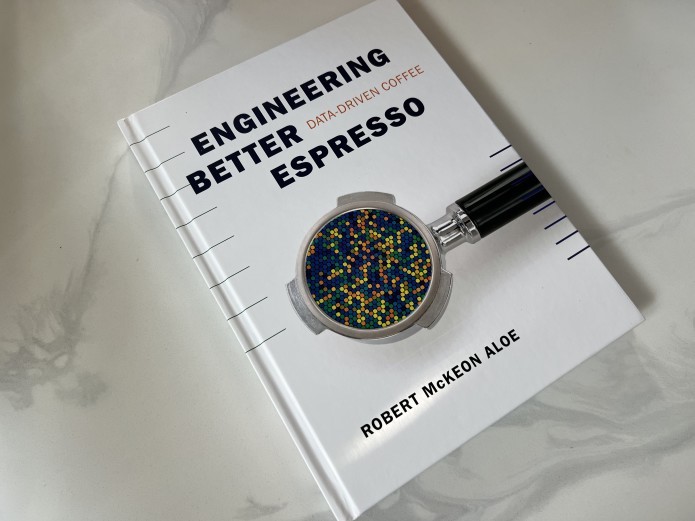 Three Questions With 'Engineering Better Espresso' Author Robert McKeon Aloe
For some science-minded people, espresso can be a never-ending trip down the rabbit hole, where aspects like fines migration, flow rates, TDS, extraction yield and water chemistry beg far more questions than answers. One of those people is Robert McKeon Aloe… Read more
Vietnam Coffee Report: Production Up, Exports Expected to Drop 
After a year of off-cycle production, higher-than-average fertilizer costs and a dip in planted area, Vietnam is expected to see a 6% increase in total coffee production… Read more
Portland Coffee Legend Jim Roberts of Coffee People Dies 
Oregon coffee pioneer Jim Roberts, the co-founder of the iconic chain Coffee People who is often credited with opening coffee's first drive-through, died Monday… Read more
Jeanine Niyonzima-Aroian and Sherri Johns on Tour With Burundi Coffees
Two prominent global coffee experts are in the middle of a North American summer tour to show off green coffees sourced from Burundi… Read more
Coffee Groups Unite for the Hot Medicated Summer Raffle
A group of coffee-related organizations in the United States and Canada have teamed up to launch Hot Medicated Summer, a raffle benefiting two inspirational coffee people… Read more
El Salvador Coffee Report: Production Holds Amidst Labor and Climate Threats
While green coffees from El Salvador continue to fetch remarkably high prices through high-end specialty coffee auctions… Read more
Mark Inman Joins Mercon Specialty as Specialty Coffee Director
Seattle-based green coffee importer Mercon Specialty has named longtime coffee professional Mark Inman director of specialty coffee… Read more
More From DCN