Meet Jakub Jüngling, the visionary café owner and skilled barista of Přerov, Czech Republic. At 39 years old, Jakub's love for coffee has driven him to excel in every aspect of his café, named in a cheeky way Nebe počká which translates to "Heaven will wait". From cleaning and ordering coffee to being the head barista, HR and PR manager, and even baking delectable cakes and bread,
Jakub's dedication knows no bounds. Although self-taught, his impressive skills and contagious passion have earned him the admiration of his customers, who return for his coffee time and time again. While Jakub humbly shies away from coffee competitions, he recognizes their significance in shaping the industry and embraces the transformative and inspiring power they hold for the coffee scene. Jakub is a plant-based advocate and true specialty coffee lover and evangelist!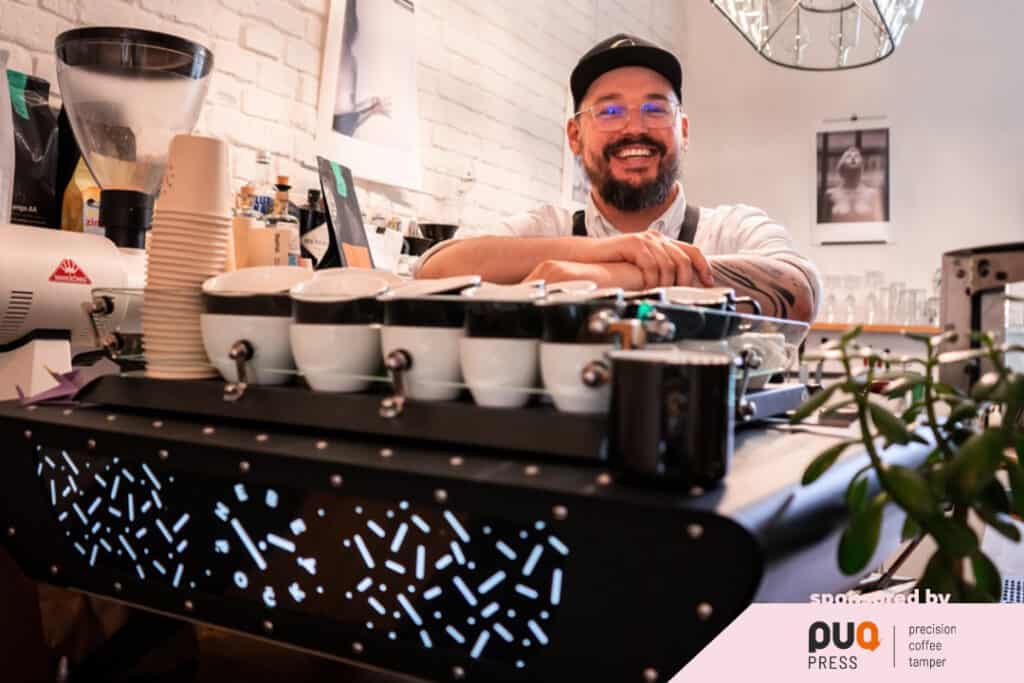 Jakub, what is your first memory of coffee? 
I had never considered myself a coffee drinker through my teens, early twenties, and even early thirties. I might have sneaked in some occasional iced latte, but I never really cared for bitter and traditional coffees. One of my strongest memories on my coffee journey is drinking a heavily acidic espresso with my wife at that time at the Kolektor café at Veletržní palác in Prague. That's when I stumbled upon the specialty coffee's rabbit hole…
​​​​What inspired you to pursue a career in the coffee industry, and how did you get started? What did you do before coffee?
I always wanted to start some meaningful business in my hometown of Přerov. The idea was to bring in quality products, be unique, and create a lovely environment where people would meet, work, and drink great coffee.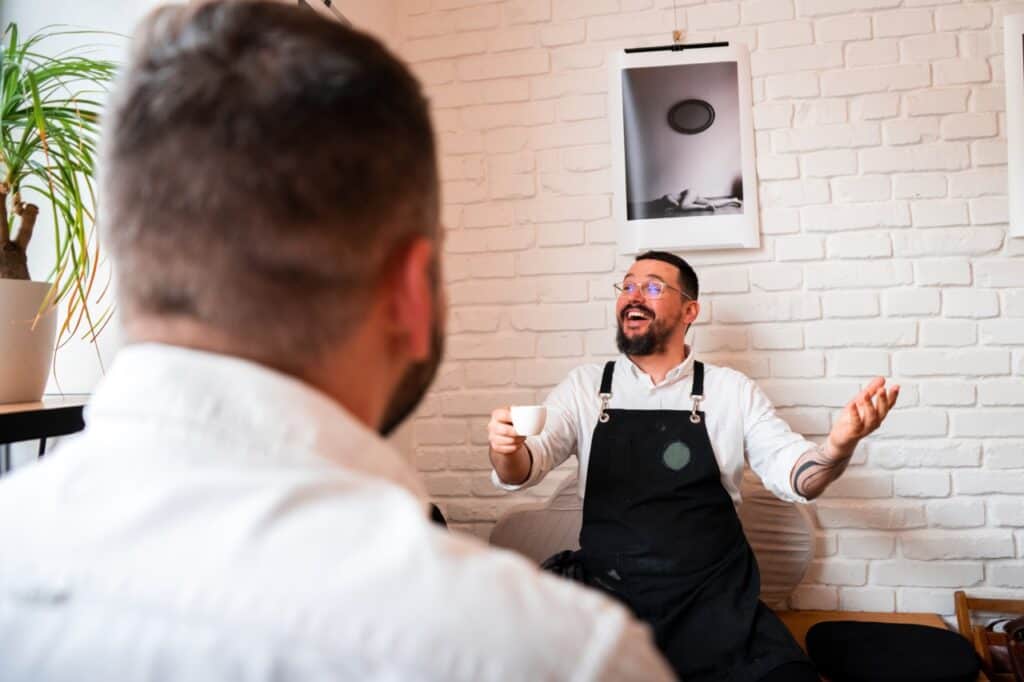 I started by reading plenty of books about coffee (Scott Rao's The Professional Barista's Handbook got me hooked heavily), watching hours and hours of YouTube videos and then – after getting my first coffee machine – through trial and error. Every day, I bugged my wife, parents, friends, and almost everyone close to me to drink and try my not-so-well-extracted coffees haha.
I worked as a translator and a "proofreader" for large UK companies and was nowhere near working with coffee. But I guess that once you get a taste of extraordinarily-good coffee there is no turning back.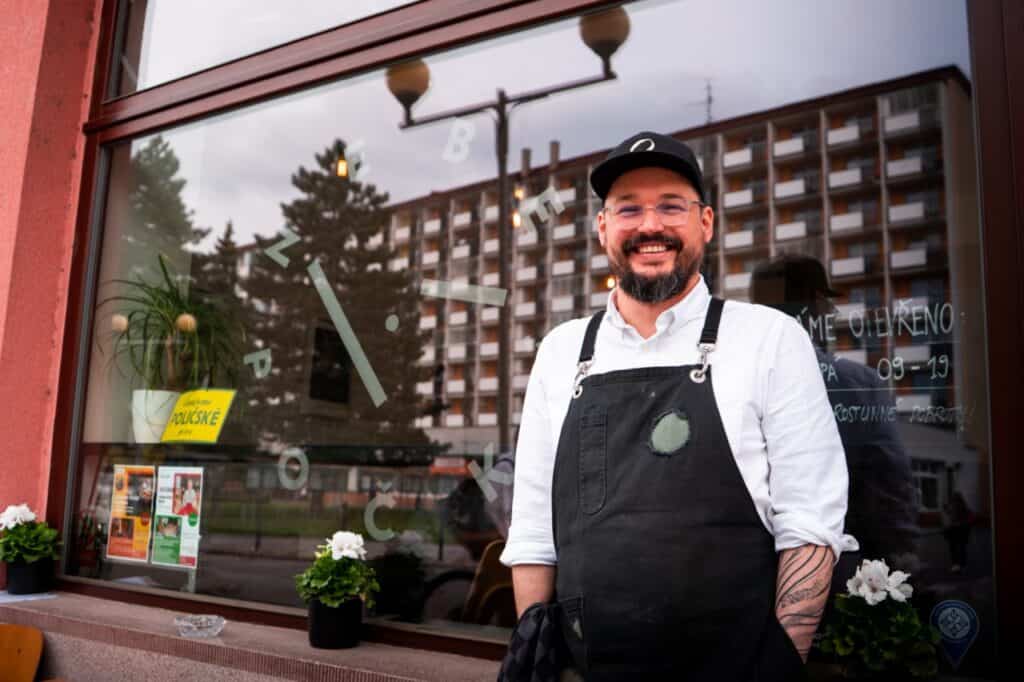 Tell us a bit about Nebe počká.
With my ex-wife, we started a small café with a very niche "business plan". Being a vegan place and serving more acidic coffee than the rest of the town was a big turn-off for some of the locals. However, since opening about 3 and a half years ago, I and my ex-wife managed to get on with the latest trends in drip, nitro coffee and bring a "state-of-the-art" coffee machine to Přerov. This sleepy-hollow-kind-of town has not much to offer when it comes to tourism. We don't even have a university over here, so we are grateful that we have established ourselves as a quality-coffee place and people come back to support us every day!
What kind of experience do you want your customers to have when they visit your place?
We love when people can work, relax, and have a good coffee at our place. We try to offer our best when it comes to the service and quality of our products. We're super diligent that everything really is plant-based and still tasty. We don't charge extra for plant-based drinks and hope we can provide people with more plant-based food soon. We're actually looking for a head chef that would really use in our new kitchen!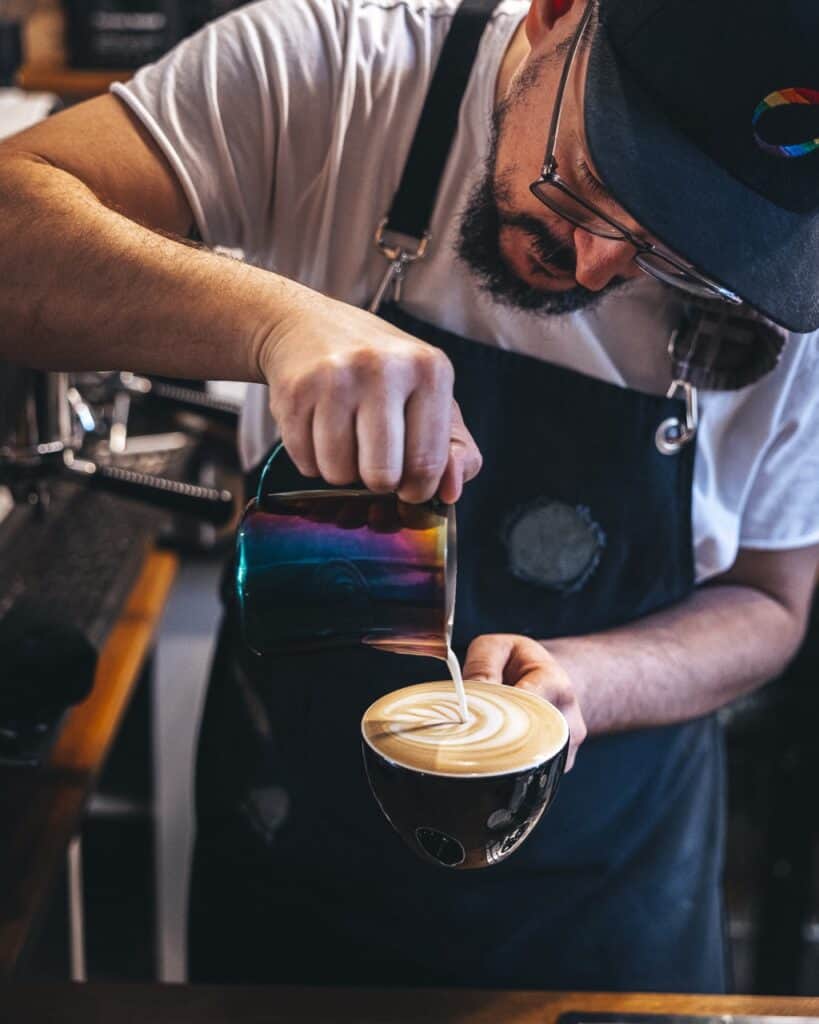 Jakub, what is your favourite part of the day in your cafe, and why?
I'd say Thursday around noon – there are just enough people to keep you busy, but the café still keeps its unique chilled vibe. These not-so-hectic moments when you can actually observe people enjoying their drinks and desserts are quite priceless. We don't get busy all the time (like most people think), so we're indeed grateful when the place gets "buzzin'" in the right way. 
How do you stay motivated and inspired to keep improving your coffee-making skills?
There's quite a lot of our friends and people who come to us because we serve good coffee from all around the world – people who work in the business, who roast their own coffees; and you really don't want to disappoint them. So, it's best to keep on your toes and follow the latest trends, work on your coffee game, and try to save up for better equipment!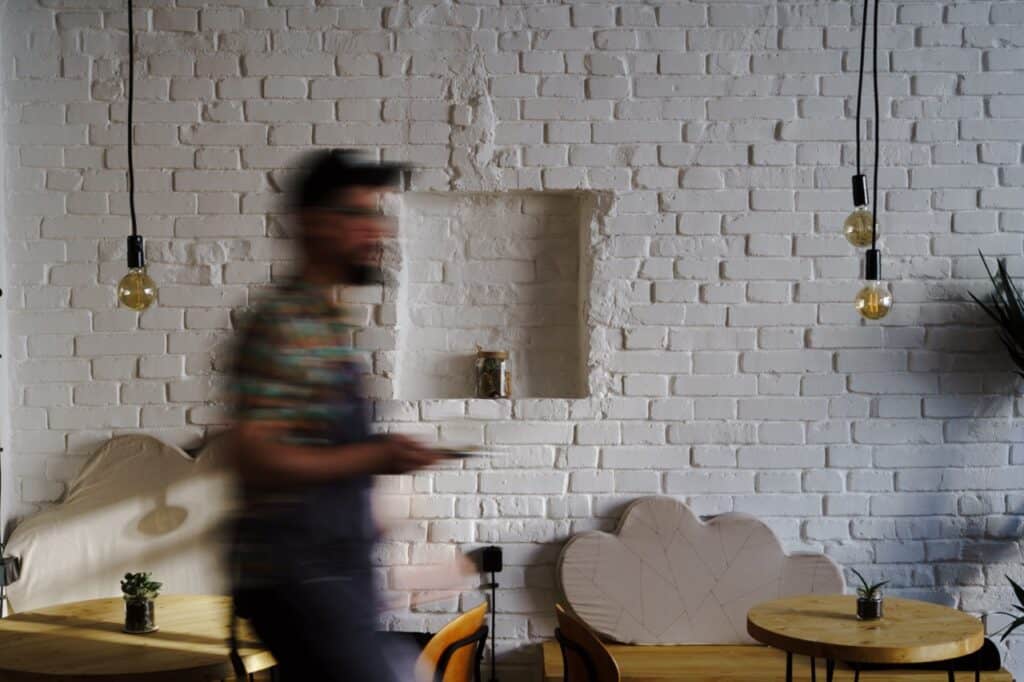 What are the current trends in cafes in your region? Are there any trends you promote yourself and would like to see more often in other places?
We were one of the first ones in the region and among few places to get cold drip machines from Swedish 3TEMP which obviously led us to buy a Nitro-infusion machine. We know that worldwide it's a well-established thing, but trust me, in Přerov, it's something unreal. After that, I had to invest in setting up a proper kitchen, so currently we don't have not that many funds to buy more coffee toys – but once we get the food up and running, you can expect great things from us again.
When we started, the ratio between medium roasts and light roasts was 3:1 (or even 4:1 at the very begging) – now, we have people drinking fruity batch brews, and acidic espressos and asking us when we are going to get some more crazy beans in again. That's something you just love to see and hear! Also, when the older generations come and try the unusual stuff. We really appreciate the fact that we are able to offer just that.
What do you think is the most important quality for a barista to have, and why?
I think we should have a great sense of taste, closely followed by a drive to make better coffee, to improve on recipes, and to actually try to talk to people.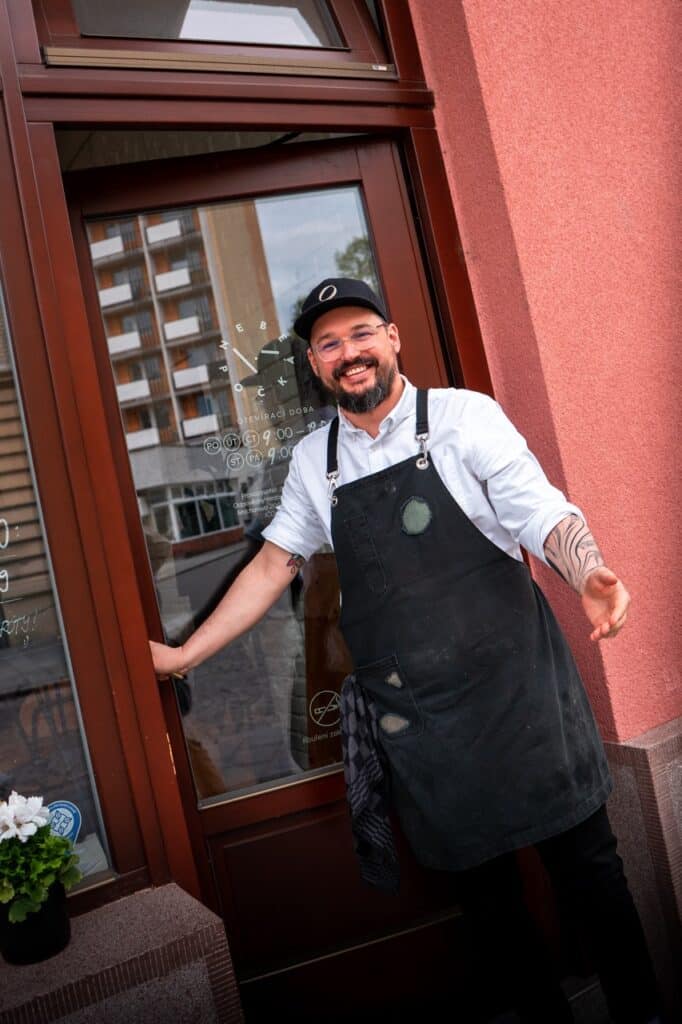 What kind of community do you hope to build around your cafe, and how do you plan to foster that sense of community?
I do believe that we already have a great community in our heavenly books (thank you so much, nebesáci!). Apart from serving the best coffee and beer, we try to throw parties, invite people to "cuppings", and show some interesting art – we do have a different artist on display almost every month! Plus, live music. That's our jam.
What coffee challenges are you looking forward to? Any new projects or collaborations?
Updating our grinder set-up. Getting in coffees from non-Czech roasteries. I am also keeping an eye on some interesting trends and would love to try them out. We're collaborating with a couple of roasteries in Czechia, so there's always something to improve. Our secret friend from Denmark is now bringing us some seriously good coffee from the region, but we can't say more. Sorry…
We've also started working on a new oat-based plant drink with our friends from Živina (which is a newly established business in Přerov) which we tested in-house and now are watching it spread across the country! Keep an eye on your local café, my dear Czechs!

Quick Fire Questions for Jakub Jüngling:
Would you serve filter coffee with milk if asked for it?
Heck yeah! Who am I to tell people how to drink their coffee?
Plus, by using a coconut drink when playing with a strawberry-infused coffee, we came up with a drink that tastes like a Christmas treat!
Do you ever take sugar with your coffee?
Nope. It's already sweet enough!
Espresso or Filter coffee?
Filter daily, espresso for special occasions.
Do you aim for Sweetness, Acidity, or Body?
Hopefully, all of the above combined. If I were to choose one, I'd go for sweetness.
Milky or Black?
Black!
Slurp or Spit?
Slurpsss!
Sit in or Take Away?
Sit, chill, and enjoy.
Cake or Pastry with your coffee?
Any vegan cake, really.
Favourite piece of barista equipment? 
Kees van der Westen Spirit & Mahlkönig EK43. Also, Evo 2.0 pitcher.