A welcome wave of new guests have flooded the ground floor of one of Norfolk, Virginia's most recognizable structures with the opening of Neptune's Fury Cafe and Roastery.
Just steps from the banks of the Elizabeth River, Neptune's Fury's place in the Dominion Tower boasts floor-to-ceiling windows with views of boats beneath the Berkley Bridge and the occasional pod of happy-go-lucky dolphins. Meanwhile, the streams of fresh coffee moving through the shop are roasted onsite through a Probat L12 roaster.
Wave patterns recalling the winds and storms of mythical Neptune's sea adorn the front of the bar, where a Victoria Arduino Mythos grinder and Eagle One espresso machine anchor the drink craft.
"The waves on the front of the bar were one of the first choices we decided on, giving the space an organic feel that lead the design on the rest of the cafe," Neptune's Fury Co-Founder Jason Walker told Daily Coffee News. "We are collaborating with local artists now to slowly fill in the white space with amazing pieces, so the space is evolving month to month as we add to it."
Walker and Neptune Co-Founder Matt Rose first embarked in coffee as hobbyists. Living in Virginia Beach, where a 12-ton bronze statue of King Neptune gazes over the Atlantic, the pair switched from home beer brewing to home coffee roasting in 2018, just as both were adapting to life as new parents.
A US Roaster Corp single-pound sample roaster soon gave way to a USRC 3-kilo machine that the pair operated in a commercial kitchen space for sales at local farmers' markets in 2020. Now, following an extensive buildout of the 4,000-square-foot roastery cafe, they've fired up the 12-kilo Probat. 
Said Walker, "That waiting period was like having a Ferrari in the garage that we couldn't drive."
Inside the roastery, Walker and the Neptune team attempt to offer a wide variety of coffees and roast levels in order to float all boats. 
"Since our start, we've found there to be an opportunity to provide an onramp into specialty coffee," said Walker. "Our Dark Seas or Depth Charge blends tend to do really well with those just discovering specialty coffee and who are coming from more traditional offerings. For someone not attuned to the funk of an anaerobic natural or the citrusy, tea-like characteristics of a light-roasted washed coffee, specialty coffee then becomes more discoverable."
Beyond the core blends, Neptune has been rotating medium- and light-roasted single-origin coffees throughout its menu. 
Neptune's Fury also keeps its snack options intriguing, offering ball-shaped bagels stuffed with various cheeses and eggs called BagelNutz. The treat was invented by Charles Greenhood, the owner of nearby Brutti's Restaurant & Catering, who passed away just one month prior to the cafe opening.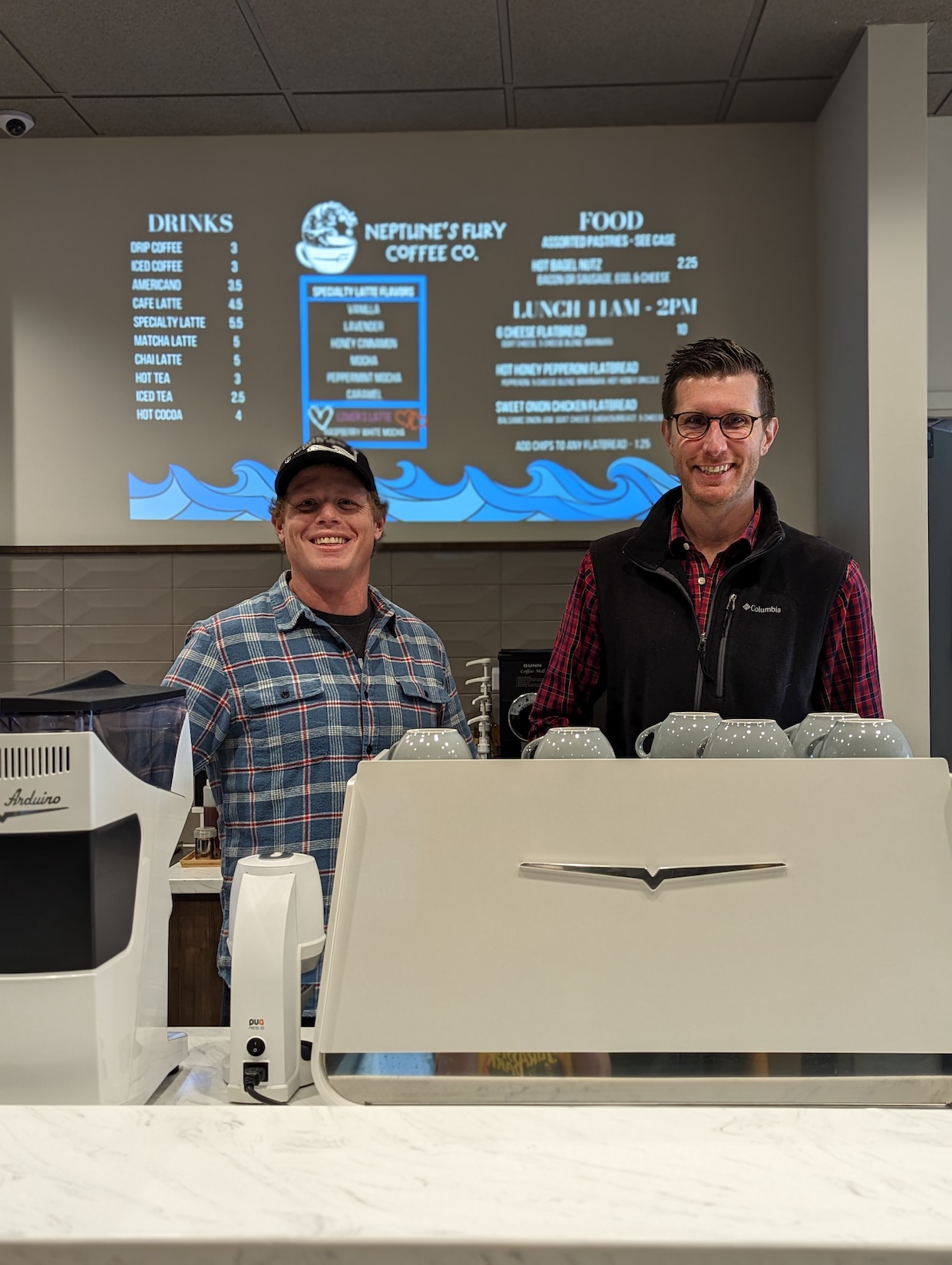 BagelNutz are now made fresh in the Neptune's Fury kitchen, alongside flatbread-style pizzas and a growing menu of additional breakfast and lunch items.
"There's a lot that takes place in a day's time on the water. All kinds of boats pass through, and massive structures are moved by tugs," said Walker. "The same goes for inside our shop — people meeting each other for the first time, relationships being built, business conducted, creative energy being put to good use — all over a cup of coffee. Seeing all of this drives us to want to continue to deliver a quality experience to our guests in a space where they feel welcome and invited."
---
Neptune's Fury Cafe & Roastery is located at 999 Waterside Dr. in Norfolk, Virginia. Tell DCN's editors about your new coffee shop or roastery here. 
More From DCN
Howard Bryman
Howard Bryman is the associate editor of Daily Coffee News by Roast Magazine. He is based in Portland, Oregon.