An iced latte contains one or more shots of espresso with milk and ice and is topped or mixed with syrups, flavorings, and other extras. The drink is popular because it has a caffeine kick and coffee flavor, but because of the addition of ice, it is refreshing and can even help cool you down on a warm day.
There's also no fear of your coffee getting cold because that's how it is served. Most Starbucks stores have a wide variety of syrups and flavors, and you can create your own combinations. Below are 16 of the best iced lattes for you to try, some of which have been perfected by Starbucks baristas and others dreamed up by regular Starbucks visitors.

The 16 Best Iced Lattes at Starbucks:
1.

Cookie Butter Iced Latte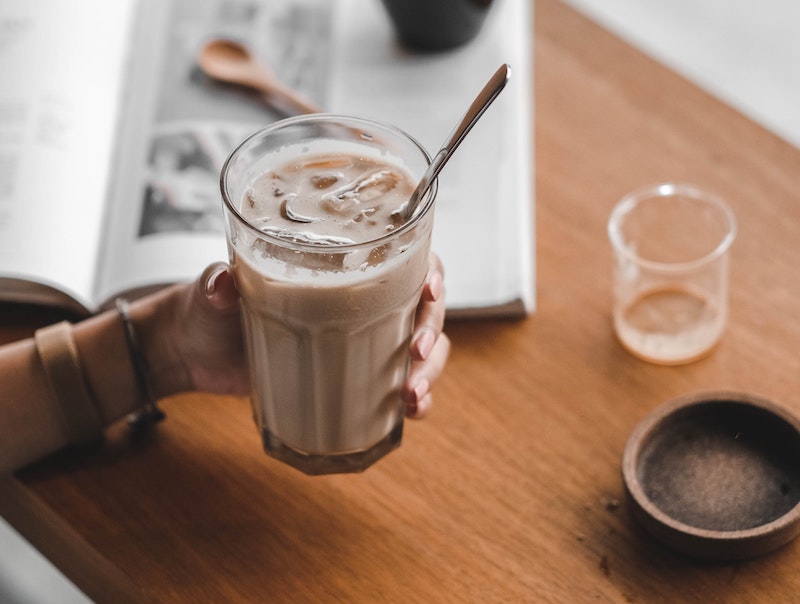 The cookie butter iced latte is a really sweet concoction that combines an oat milk chai latte with brown sugar syrup and chai. It is topped with whipped cream and with 500 calories it really isn't for the faint-hearted or those on a calorie-controlled diet.
---
2.

Iced Blonde Vanilla Latte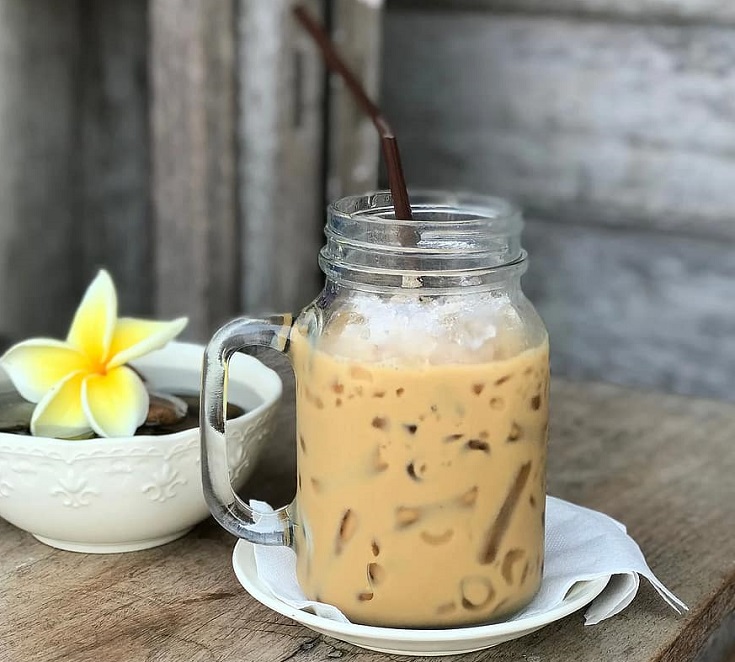 The iced blonde vanilla Latte is sweeter and smoother than the standard iced latte. It is made using blonde espresso, which comes from a lightly roasted bean rather than a dark roast. The espresso is mixed with vanilla syrup, milk is added, and the whole drink is mixed with ice. This is a good choice for those that don't like their lattes to have too strong a coffee taste.
---
3.

Iced Café Latte
The Iced caffe latte is the original Starbucks iced latte and it has become a phenomenon. It is a drink enjoyed by people of all generations, including those that don't really consider themselves coffee drinkers. It contains standard espresso that is mixed with milk and then shaken over ice. The iced caffe latte is a good place to start if you're new to iced lattes and a good choice for the traditionalist.
---
4.

Iced Caramel Brulee Latte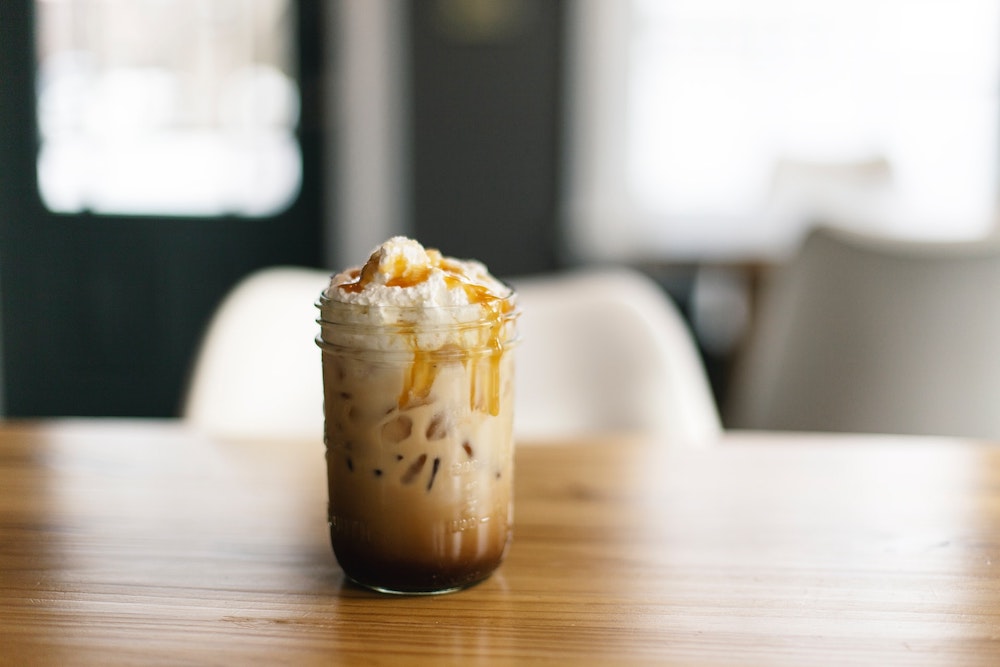 The iced caramel brulee latte is another sweet option that has the flavors of the popular caramel brulee dessert. The espresso and milk are combined with caramel syrup and there are pieces of caramel added to the drink, along with the ice. Definitely one for caramel lovers that need a hit of caffeine.
---
5.

Iced Caramel Macchiato
The difference between a latte and a macchiato really only lies in the foam. Lattes have foamed milk on top; macchiatos don't. Many of the iced lattes don't have the foam, which means that the iced caramel macchiato is as much an espresso as any of the other drinks on this list.
Espresso and milk are combined with vanilla syrup, and the whole drink has a caramel drizzle added to finish it off. It's another option for caramel lovers, but with around half the calories of the iced caramel brulee latte.
---
6.

Iced Chestnut Praline Latte
The iced chestnut praline latte uses chestnut praline syrup, and the whipped cream on top is then covered with a sprinkling of praline pieces. The addition of chestnut brings a nutty flavor to the iced latte menu and also tempers some of the sweetness, although it is still a sweet drink.
---
7.

Iced Cinnamon Dolce Latte
The iced cinnamon dolce latte is heavy on cinnamon flavor, as well as caffeine. It contains cinnamon dolce syrup and, once mixed, it is topped with whipped cream and enjoys a sprinkling of cinnamon powder on top to finish it off.
---
8.

Iced Dirty Chai Latte
If you're one of those people that can't decide between tea or coffee, then the iced dirty chai latte could be the ideal option. Espresso is mixed with black tea to create a chai latte.
---
9.

Iced Eggnog Latte
The iced eggnog latte is one of the most calorie-packed iced latte drinks at Starbucks. It uses non-alcoholic steamed eggnog and nutmeg powder and is mixed with espresso and ice. It has a definite taste of Christmas, so is perfect if you're feeling festive and it is on the menu.
---
10.

Iced Honey Oat Milk Latte
Whether you're looking to avoid cow's milk or not, oat milk makes a great-tasting latte. And when combined with espresso, honey, and ice, it has a pleasant sweetness that isn't too overpowering, even with the additional honey topping that is added at the end. Ideal if you don't want something that tastes uncomfortably sweet and perfect if you're off dairy.
---
11.

Iced Matcha Tea Latte
The iced matcha tea latte has a distinctive look and a distinctive flavor because it is made using green matcha tea and with no espresso in sight! The tea is combined with pineapple and ginger flavors and mixed with coconut milk. It is lower in calories than most of the other options while also being a little lower in caffeine. Perfect as an afternoon iced latte!
---
12.

Iced Pumpkin Spice Latte
If you want a caffeine hit but aren't especially keen on the flavor of espresso, the iced pumpkin spice latte is a good option. You can thank the combination of pumpkin and spice flavors that really mask the espresso.
---
13.

Iced Sugar Cookie Almond Milk Latte
Despite having sugar and cookie in the name, this drink has fewer calories than most of the others on the list. It uses a blonde espresso so has a smooth coffee flavor. This is combined with almond milk, which has a slightly nutty taste, and sugar cookie syrup. Colored sprinkles are added to the top of the drink.
---
14.

Starbucks Reserve Iced Bourbon Barrel Aged Latte
Starbucks Reserve is the name of the company's special reserve coffee bean blend. It has a little more caffeine than the standard coffee and is slightly smoother. Other than that, this is a fairly standard iced latte combining espresso with milk and ice.
---
15.

Starbucks Reserve Iced Hazelnut Bianco Latte
The Starbucks Reserve iced hazelnut Bianco latte really is something a little different. It uses Reserve coffee beans, and it also uses hazelnut and praline-infused milk. These are poured over ice, and the drink makes a good choice for those that want a strong caffeine hit and those that enjoy a nutty flavor.
---
16.

Starbucks Reserve Iced Latte
The Starbucks Reserve iced latte is a fairly standard iced latte drink except that it uses the Starbucks Reserve blend so has more caffeine. It is a good choice for drinkers that like the flavor of an iced latte but want something a bit special and with extra caffeine.

Conclusion
Iced lattes are refreshing, offer a caffeinated kick, and can be combined with a host of syrups, flavors, and toppings to create a vast range of uniquely flavored drinks. Above are 16 of the best iced latte drinks you can get at Starbucks, but remember that you will have to specifically ask for the Reserve blend if that's what you want, and don't be afraid to add or remove your own flavors to create a drink that is perfect for you.
---
Featured Image Credit: Lala Azizli, Unsplash