Coffee is loved for its caffeinated boost almost as much as its deep, strong flavour. It is available in a range of different forms, from the ever-popular instant coffee to more modern pods. With most coffee drinkers enjoying at least one, and sometimes several, cups of coffee a day, buying the hot beverage with a subscription helps ensure that you never run out of your preferred coffee, and it can save you money compared to buying as and when you need it.
Below, you will find reviews of the 10 best coffee subscriptions in the UK, including all of the most popular coffee formats and a selection of decaf, Fairtrade, and even mycotoxin-free coffee, as well as a guide to the styles and varieties.
A Quick Comparison of Our Favourites in 2022
The 10 Best Coffee Subscriptions in the UK
1.

Pact Coffee Subscription – Best Overall
| | |
| --- | --- |
| Coffee Type: | Beans, Ground, Pods |
| Frequency: | Customisable |
| Volume: | 250g |
A Pact Coffee subscription is highly customisable. They have house coffees, which means if you settle on a flavour you enjoy, you can have that delivered regularly and can enjoy the same drink every time you want one. You will also find special blends at certain times of the year, and some of the coffees rotate in and out so that you can pick up a different bag if you want to try something new.
The coffee is delivered through the letterbox, so you don't have to be home, and its subscription plan works a little differently from most. Your subscription is for a single bag delivered as often as you like, which means you can have a bag delivered twice a week or every 17 days, according to how much you drink.
Because you're only ordering a single bag at a time, the subscription can work out a little expensive, but there's a good range of beans, ground, and even coffee pods. Currently, the bags are not fully recyclable, although the company does say that they are researching new packaging methods.
Overall, we found Pact Coffee to offer the best coffee subscription in the UK thanks to its flexible subscriptions and great coffee.
Pros
Beans, ground, and pod coffee options
Delivered as frequently or infrequently as you like
You can continue to order coffee you enjoy
Cons
Expensive because you can only order one bag at a time
Packaging isn't fully recyclable
---
2.

Batch Coffee – Best Value for Money
| | |
| --- | --- |
| Coffee Type: | Ground, Beans |
| Frequency: | 2 or 4 Weeks |
| Volume: | 400g |
Batch Coffee bills itself as a specialty coffee subscription service. They source coffee beans from around the world before roasting them in the UK. A subscription consists of two 200-gram bags of beans or ground coffee, which can be delivered every 2 or 4 weeks. The coffee is delivered in letterbox-friendly packaging, which means you don't have to be home to take delivery, and there are QR codes on the box and bags.
Scanning the QR codes links to brewing guides, tasting notes, and more. The coffee on offer changes every 2 weeks, which ensures that you don't get the same coffee twice. Those that enjoy discovering new flavours will love that variety, but if you're looking for a good everyday coffee subscription, this won't be it.
This is a good subscription option for those that enjoy savoring coffee that they are unlikely to find anywhere else, and the environmentally friendly, plastic-free packaging is a bonus. The QR codes do help minimise waste, but some people would still prefer to receive printed notes, and the cost of the subscription is on the high side.
Overall, though, the cost of the coffee from Batch Coffee was lower than a lot of the other premium and gourmet coffees, making it our choice as the best coffee subscription in the UK for the money.
Pros
Specialty coffee from small-batch roasters
Environmentally friendly, plastic-free packaging
Different coffee every time
Cons
You won't love all the coffee that is sent
---
3.

Square Mile Coffee Subscription
| | |
| --- | --- |
| Coffee Type: | Ground, Beans |
| Frequency: | Weekly, 2 Weekly, Monthly |
| Volume: | 350g or 1kg |
Square Mile is a subscription service with coffee that caters to professional users, which means that it should deliver uniform and consistent flavour and grind texture. Their coffee is available as ground or whole bean, and there are a few different coffees to choose from.
In terms of the subscription, you can choose 350-gram or larger 1-kilogram bags, although it is worth noting that the larger bags do not fit through the letterbox, which might be a problem if you're not regularly at home to take delivery.
You can opt to have your chosen amount delivered weekly, every 2 weeks, or monthly, however, and the company offers decaf as well as caffeinated. However, the 350-gram bags still work out quite expensive. Even the 1-kilogram bags aren't cheap, but the bags do have a handy little sticker that informs you of the best way to brew the coffee and also includes tasting notes.
Pros
Good choice of subscription periods and bag sizes
Regular delivery of your chosen coffee
Various sizes
---
4.

Blue Coffee Box
| | |
| --- | --- |
| Coffee Type: | Ground, Beans |
| Frequency: | 2 Weeks, Monthly, 2 Months |
| Volume: | 1 or 2 x 227g |
Blue Coffee Box is a specialty coffee subscription that allows you to choose your coffee type, roast level, or a variety selection box. You can also choose to have your coffee delivered every 2 weeks, every month, or every 2 months.
The coffee is reasonably priced and there is a good variety. They also do decaf coffees, which isn't always an option. And all the coffees come with their own cards, which highlight where the coffee came from and also include tasting notes and brewing guides.
The coffee comes in cardboard envelopes that fit through the letterbox. The packaging is either recyclable or compostable, and Blue Coffee Box also comes with an option to add a coffee gift package so that it can be given to somebody to celebrate a special occasion. It's a shame the bags can't be recycled, and when you take into account the tasting cards, there is quite a lot of waste. Still, the subscription is reasonably priced with a good range of options.
Pros
Decent price
Choose your own or let Blue Coffee Box choose for you
Good selection of roasts as well as decaf
Cons
Although compostable, the coffee bags are not recyclable
---
5.

Balance Coffee
| | |
| --- | --- |
| Coffee Type: | Ground, Beans |
| Frequency: | Weekly, Fortnightly, Monthly |
| Volume: | 250g, 500g, 1kg |
Balance Coffee is another subscription service that offers the benefit of flexibility, although primarily in the amount of coffee you have delivered. Choose between 250-gram, 500-gram, or 1-kilogram bags, and whether you want them delivered weekly, fortnightly, or monthly. They do have a decaf blend, and there's even mushroom coffee available.
The price of the coffee is reasonable, and smaller bags, at least, can be delivered through the letterbox. The packaging, as well as the tasting and growing notes, are recyclable and the company has a good selection of coffee-related gifts on its website, making them a good choice if you're thinking of gifting a subscription and want something to accompany it.
Pros
Flexible subscription options
Good range of coffees, gifts, and even a mushroom coffee
Reasonable price
Cons
Coffee choices are a little limited
---
6.

Perky Blenders Coffee Subscription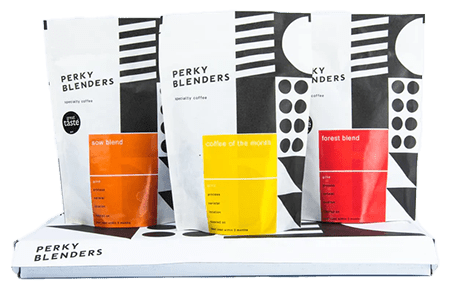 | | |
| --- | --- |
| Coffee Type: | Ground, Beans |
| Frequency: | Varies |
| Volume: | 200g |
Perky Blinders' coffee subscription service offers a choice of half a dozen coffees, including a decaf coffee, and then lets you choose from one of its coffee clubs. Coffee clubs are basically how long you subscribe for and how often the coffee will be delivered, and there is also a coffee of the month club that has a different blend every month so that you can try something new. The prices are reasonable, the packaging can be recycled, and everything conveniently fits through the letterbox.
While the coffee clubs do offer good flexibility, it can take a while to figure out exactly which club you want to get the delivery schedule and coffee selection you desire. Otherwise, it's a good choice of subscription and you can find a few coffee-related gifts, including a personalized bag of coffee.
Pros
Good variety of subscription options
Decent price
Letterbox-friendly packaging
Cons
Subscriptions are a bit confusing
200-gram bags are a bit small
---
7.

Rave Coffee
| | |
| --- | --- |
| Coffee Type: | Ground, Beans |
| Frequency: | Monthly |
| Volume: | 250g |
Rave Coffee offers a good selection of coffee beans and ground coffee through their website, and they also have a coffee subscription. With a subscription, you can't choose the coffees you want to receive. Rave will send you their coffee of the month, which rotates so you might get the same coffee a few deliveries in a row, but not for longer than 1 month.
The coffee is delivered monthly and there's no option for more or less frequent deliveries, but you can decide whether to have one, two, three, or four bags every month, and you can sign up for 3-, 6-, or 12-month subscriptions.
Rave Coffee's prices are reasonable, and the coffee comes in a biodegradable bag, although that doesn't necessarily mean it is recyclable.
Pros
Decent price
Have 1–4 bags of coffee per month
Different coffee every month
Cons
No choice of coffee with the subscription
---
8.

Volcano
| | |
| --- | --- |
| Coffee Type: | Ground, Beans |
| Frequency: | Monthly |
| Volume: | 2 x 200g or 1kg |
Volcano Coffee Roasters let you choose your own coffee, or you can let them choose for you, which means that you can settle on a regular brew or try something new every month. You can also choose whether you want 200-gram bags, which enable the coffee to stay fresher for longer, or a 1-kilogram bag, which is ideally suited to those that consume a lot of coffee.
Volcano pays its farmers double the rate of Fairtrade, and the coffee comes from growers all around the world ensuring good diversity in the coffee options and fair pay for the farmers. Unfortunately, the coffee delivery isn't letterbox friendly, which means it might be left outside or need redelivering at a later date.
Pros
Choose your own coffee or let Volcano choose for you
Customize the amount of coffee you receive
Cons
Only monthly deliveries available
Packages are not letterbox friendly
---
9.

Caravan Coffee Roasters
| | |
| --- | --- |
| Coffee Type: | Ground, Beans |
| Frequency: | Weekly, Fortnightly, Monthly |
| Volume: | 250g or 1kg |
Caravan Coffee Roasters offers really good flexibility from its subscriptions. You can choose between ground or whole coffee beans, whether you want 250-gram or 1-kilogram bags, and whether you want a delivery every week, 2 weeks, or monthly.
The coffee is a little more expensive than others, but each bag comes with tasting notes and details of the coffee source and the coffee is delivered in a letterbox-friendly package. You can choose a coffee yourself for espresso but are stuck with the roaster's choice for filter coffee. They do offer a decaf coffee subscription, though.
Pros
Letterbox friendly packaging
Flexible subscription options
Decaf option
---
10.

Horsham Coffee Roasters
| | |
| --- | --- |
| Coffee Type: | Ground, Beans |
| Frequency: | 1, 2, 3, or 4 Weekly |
| Volume: | 1, 2, or 4 x 250g, or 1kg |
Horsham Coffee Roasters offers a specialty coffee subscription service that is very flexible. You can choose to have 250-gram bags or a 1-kilogram bag delivered every 1–4 weeks. And, you can choose your own coffee or have the coffee roaster choose it for you. If you have a single bag, it will fit through the letterbox, and coffee prices vary.
The company prides itself on sustainability, using a low-emissions roaster and also having signed up to be part of an initiative that ensures the replanting of trees. The bags are made of plastic, and you might not be able to recycle them with your local council, but Horsham Coffee Roasters invite their customers to post bags back that cannot be recycled, and they will do it for you.
Pros
Very flexible subscription options
Choose your own or opt for the roaster's choice
Cons
Some of the coffee is expensive

Buyer's Guide: Choosing the Best Coffee Subscription in the UK
Coffee is the third-most widely consumed beverage in the world after water and tea. It is generally enjoyed for its combination of deep flavour and caffeine content, which can help improve mental alertness and even physical performance. Although it is possible to get your favourite coffee drinks from coffee shops and restaurants, it is also possible to make any style and any type of coffee from home.
Depending on the type of coffee you purchase, the only equipment you need is a kettle, although if you want to enjoy "proper" coffee, you will need some kind of coffee maker to get the best flavour and enjoy a wider array of caffeinated drinks.
Benefits of a Coffee Subscription
Considering most coffee drinkers will have at least one cup, and typically more like 3–4 cups a day, the average household can go through a lot of coffee beans, grounds, instant, pods, or bags in a week.
A coffee subscription can offer the following benefits:
Waiting until you run out means that you run the risk of running out before your next purchase. The biggest benefit of a coffee subscription is that you can have your chosen coffee delivered to your door in time for when you need it.
Coffee subscriptions also negate the need to have to run to the shop in an emergency, and because you can have your coffee delivered as frequently as every 2 weeks, you don't have to store a ton of the stuff in your kitchen cupboards in the meantime.
Finally, cost is another benefit of a coffee subscription. Because you are agreeing to purchase your coffee on a regular basis, the producer or retailer typically provides a discount on the price you pay. This means that you can enjoy your favourite coffee at a lower price than if you buy it on an as-needed basis.
Subscription Options
A coffee subscription can be tailored to your requirements. This means that you don't have to have a kilo of coffee beans delivered every week or wait 3 months until your next 100 grams of instant coffee arrives. You can choose a coffee you like in the format you prefer and have your desired amount delivered according to your frequency.
In most cases, frequencies vary from 2 weeks to 3 months, and you should choose not only according to how quickly or slowly you drink coffee, but whether a bag or pack will go off if left open for this length of time. Beans and ground are best consumed within 2 weeks of being opened, although instant coffee can last longer.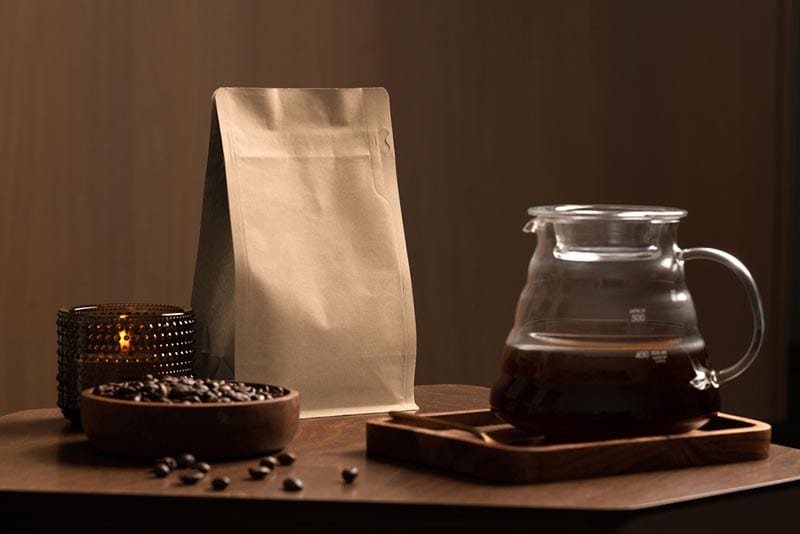 Coffee Type
More than three-quarters of British households buy instant coffee for consumption in the home, so while many people choose lattes and frappuccinos when they visit a coffee shop, a quick and convenient cup of instant coffee is still the preferred choice. However, there is a very wide range of types of coffee available that can be bought as part of your subscription.
Whole Beans – Whole beans are the "purest" form of coffee typically bought for home. While green beans are available for home roasting, it is very rare that people buy these. Whole beans have been grown, picked, and roasted, before being packaged and delivered to your home. They do need to be ground before being used, but this means that they retain freshness for longer. Because you can grind to any coarseness, this is arguably one of the most flexible ways to enjoy a cup of coffee at home.
Ground Coffee – Ground coffee is the next step in the coffee-making process. The beans are not only dried and roasted but are also ground into a usable powder before you receive them. Although coffee does start to lose freshness as soon as it has been ground, it is usually vacuum-packed or otherwise sealed to ensure that it is as fresh as possible when it arrives. Ground coffee should be consumed within 2 weeks of opening and needs to be stored in a cool, dark environment, where it won't get damp. You can choose either a coarse grind, which is ideal for filter coffee machines and cafetieres, or a fine ground, which is better suited to making espresso.
Instant – Instant coffee is preferred for its convenience, ease, and its affordability. Simply add hot water and stir and you have a serviceable cup of coffee. It can be further enhanced with the addition of milk and sugar or drank black.
Coffee Pods – Coffee pods typically contain ground coffee and may contain other flavourings and additives to add flavour to the coffee. They have to be used in a pod machine, and most pods are only compatible with certain types of pod machines. This is considered a more convenient alternative to using ground or whole coffee beans and it also ensures that every cup using the same pod tastes the same. However, some coffee pods use instant coffee and powdered milk to give an authentic at-home instant coffee taste. With pods, it is also easy to know exactly how many cups of your preferred coffee you have left.
Coffee Bags – Coffee bags are probably the least commonly purchased coffee formats. They contain ground coffee, are submerged in hot water in your cup for around 4 minutes, and are then squeezed and removed, leaving you with a cup of brewed coffee. They can be expensive but are particularly handy if travelling or if you don't have access to any kind of coffee machine at work, for example.
Decaffeinated Coffee – Decaffeinated coffee has been through a process that usually involves soaking the green beans and the application of some solvent, to remove the majority of the caffeine from the resulting coffee. This method does not remove all caffeine, but you are only left with a very small percentage of the amount of caffeine. Ideal for those that are sensitive to caffeine or if you want a cup of coffee at night but don't want to be kept awake by the effect of the stimulant, decaffeinated coffee can come in any of the forms above.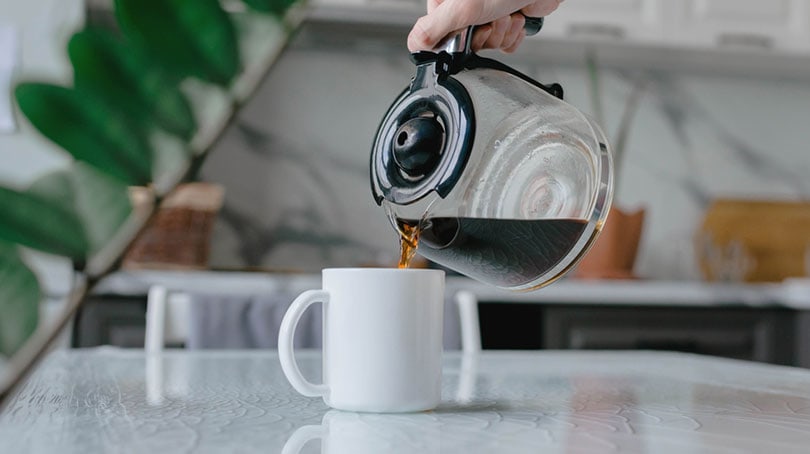 Certifications
While browsing coffees, you may see some certifications on certain brands. The main certificates are Fairtrade and Rainforest Alliance. These groups try to ensure that farmers are paid a fair wage and work in reasonable conditions while guaranteeing to meet certain standards. Not all coffee companies partake in these schemes, however.
Carbon neutral certification means that the company has achieved carbon neutral status, showing a commitment to the environment and a bid to try and tackle climate change. "Certified organic" means that no pesticides or other potentially harmful chemicals were used during the farming of the coffee.
Packaging
When it comes to packaging, it is worth looking at whether a subscription service offers letterbox-friendly packaging. If so, this means that the coffee can be posted through your door every month. You don't need to be home and you don't have to worry about redeliveries or collecting your coffee from the neighbour's house.
Also worth considering is whether the packaging is recyclable, compostable, or neither. If you drink a lot of coffee and have a regular subscription, that includes bags and card-based tasting notes, that's a lot of waste to throw away.

Conclusion
Choosing the best coffee is a very personal thing. While one person might prefer a mild instant coffee, the next person may prefer a bitter ground coffee with a very strong flavour. Similarly, some people prefer the convenience of pods while others enjoy the process of grinding, tamping, and brewing their coffee themselves. Whatever your preferences, a coffee subscription can ensure that you always have a handy supply of your preferred drink.
Pact Coffee is a little expensive, but its coffee is good quality, and they are one of a limited number of subscriptions that can send pods as well as ground coffee or whole beans. Batch Coffee is an affordable option, and because they send you different coffees every time, they are good if you are looking to try a new drink every month. At the end of the day, we hope these reviews have given you some guidance on choosing the best coffee subscription in the UK.
---
Featured Image Credit: Kabachki.photo, Shutterstock