Pre-ground coffee is the go-to option for many coffee drinkers. It's convenient and easy to brew without all the hassle and mess of grinding beans. While many experts agree that whole bean coffee provides more flavor, you can still get a quality cup with pre-ground coffee.
These reviews are of the 10 best ground coffees in Canada to help you find just that: a quality, robust, and flavorful cup of coffee without needing a grinder.
A Quick Comparison of Our Favourites in 2022
The 10 Best Ground Coffees in Canada
1.

Kicking Horse Coffee Horse Power — Best Overall
No Canadian coffee list is complete without Kicking Horse Coffee. This home-roasted blend is our recommendation for the best overall ground coffee in Canada. While the company is famous for its whole bean coffees, it now offers ground versions. Horse Power is its dark roast blend. It retains the original blend's flavor with 100% organic, fair-trade, Arabica beans.
This particular flavor from Kicking Horse tastes quite bold. It's made for dark-roast coffee lovers, and it takes this seriously. If you're not a fan of dark, strong coffee, this particular variety may be too much.
Pros
Uses organic, fair-trade beans
Same blend as Horse Power whole bean flavor
Ground in Canada
---
2.

Folgers Classic Roast — Best Value
| | |
| --- | --- |
| Roast Level: | Medium roast |
Folgers Classic Roast is the best ground coffee in Canada for the money. It has a balanced and smooth flavor that's suitable as a breakfast brew. Since it has the lowest price tag of any coffee on this list, you can feel free to indulge every day. Folgers coffee is easier to find than many other coffee brands and is a staple in most Canadian grocery stores.
This is a coffee made for those who don't want anything fancy but are looking for a flavorful, consistent, everyday coffee. You won't find novelty blends with this brand that you would with Starbucks or Kicking Horse, but you won't find premium price tags either.
Pros
Inexpensive
Consistent, smooth flavor
Easy to find
Suitable as an everyday, breakfast-blend coffee
Cons
No novelty flavor options
---
3.

Tim Hortons 100% Colombian Fine Grind Coffee — Premium Choice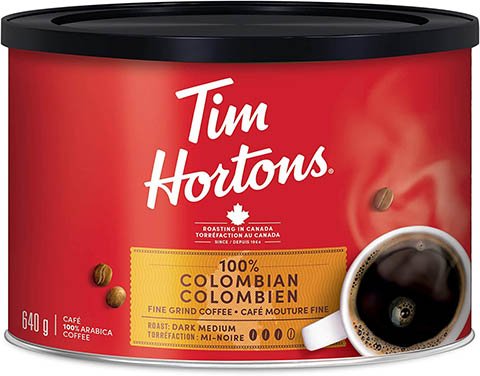 Roast Level: Medium roast
Tim Hortons 100% Colombian Fine Grind Coffee gives you the comfort of Tim's coffee without leaving your kitchen. The downside is that this comes at a price. Tim Horton's ground coffee is expensive if you drink a large amount of coffee.
For those who want the comfort of Tim Horton's coffee without having to fight blizzards to get it, this is for you.
Pros
Restaurant coffee at home
Cheap to brew at home
Cons
Expensive compared to some other ground options
---
4.

Melitta Traditional Medium Roast Coffee
| | |
| --- | --- |
| Roast Level: | Medium roast |
Melitta Traditional Medium Roast Coffee is one of Canada's best-selling coffee brands. It is ground from 100% premium Arabica beans and has a deep, full flavor. This particular roast is available in grounds, coffee pods, and whole bean options. It is available at an economical price, making it affordable to drink every day. For those concerned about the environmental footprint of the brands that they support, Melitta makes annual donations to American Forests Global ReLeaf ecosystem restoration projects. These support the replanting of trees used in the production of Melitta coffee filters.
Some customers complain that this brew lacks aroma and flavor compared to many other brands. It is a mild blend of ground coffee and appeals more to those who enjoy breakfast blends over strong, full-bodied coffees.
Pros
Environmentally responsible company
Affordable
Many different grinds and coffee forms are available
Cons
Not as full-bodied as some other options
---
5.

Starbucks Pike Place Roast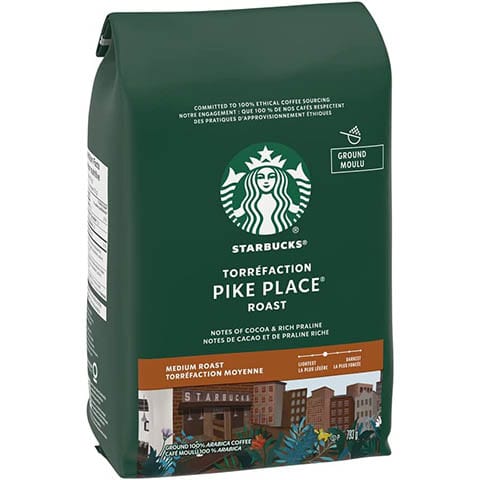 | | |
| --- | --- |
| Roast Level: | Medium roast |
Seattle's famous Starbucks coffee is available to brew at home with Starbucks Pike Place Roast. This variety is a medium roast with hints of chocolate and roasted nuts. It's the same coffee that's brewed in Starbucks restaurants, although this version is pre-ground rather than freshly ground. It has the distinct bitter taste that Starbucks is known for, which means you either like this coffee or you don't.
The Starbucks premium price tag follows its blends into the grocery store, but the availability of this coffee in an at-home ground blend is great news for those who want their Starbucks fix every morning. Most customers agree that it's close enough to the restaurant version to be 100% worth purchasing.
Pros
The same flavor that Starbucks is known for
Hints of chocolate and roasted nuts
Cons
Expensive
Slightly weaker than the fresh ground version
---
6.

Starbucks Caffè Verona
Starbucks Caffè Verona is a certified organic dark-roast option that contains dark cocoa and burnt sugar. It's the same rich flavor that you've come to expect from Starbucks restaurant coffee, although it's slightly weaker in the ground version.
This brew is strong and won't appeal to all coffee drinkers. It is also fairly expensive and not ideal if you drink a large amount of coffee.
Pros
Organic
Rich flavor
Hints of cocoa and burnt sugar
---
7.

McCafé Premium Ground Coffee
McCafé Premium Ground Coffee is labeled as a dark roast but is actually more of a medium-dark roast. Only hard beans grown at high altitudes are included in this roast, resulting in a rich, smooth flavor. The Arabica beans are 100% ethically sourced from Rainforest Alliance Certified farms.
This ground coffee is slightly acidic, and many customers have noticed that the large tins lose their freshness over time. You will need to purchase this coffee in smaller packages to consistently get a fresh cup. Unfortunately, doing this is less economical than buying in bulk.
Pros
Ethically sourced coffee beans
Only includes hard beans from high altitudes
Cons
Acidic
Large tins lose freshness over time
---
8.

1850 Coffee
For a light-roast, mild, and smooth-tasting coffee that isn't bitter, look no further than 1850 Coffee. This ground coffee is made by Folgers, known for its economical ground coffee blends. This is its premium line of coffee that is available in both ground and whole-bean form. It's slightly more expensive than regular Folgers ground coffee, but the acidity is low and the flavor is mellow.
The only complaint about this coffee is that there is little flavor difference between regular Folgers and 1850, but the 1850 price tag is higher. If you're buying whole-bean coffee, 1850 is the best choice, but it's more economical to stick with regular Folgers for ground coffee.
Cons
Tastes like Folgers with a higher price tag
---
9.

Folgers French Vanilla Flavoured Ground Coffee
| | |
| --- | --- |
| Roast Level: | Medium roast |
Folgers French Vanilla Ground Coffee offers a unique option for ground coffee infused with vanilla flavors. The flavor and aroma are distinctly that of Folgers regular brew with a little added flavor. It doesn't taste artificial and it's not overpowering, so it's a nice change from plain coffee if you want to mix it up.
For those who don't like acidic coffee, this is a good option, and it comes with an affordable price tag. It's a budget brand of ground coffee, so don't expect the same type of full-bodied flavor that you would find in premium grinds.
Pros
Inexpensive
Flavor is not overpowering or artificial
Not acidic
---
10.

Maxwell House Rich Dark Roast
Maxwell House ground coffees are available in dark roast and medium roasts. They are only available in one grind, which may be disappointing for those who like finely ground coffees. This blend offers a smooth, balanced flavor that is suitable for everyday drinking. All the packaging is 100% recyclable, which offers an advantage over brands that use plastic containers to house their coffee.
It's slightly on the acidic side, so it won't be for everyone, but it's affordable and overall, a great-tasting, economical ground coffee option.
Pros
Recyclable packaging
Multiple roast options
Balanced, smooth flavor
Cons
Acidic
Not available in fine grind
---
Buyer's Guide: Selecting the Best Ground Coffee in Canada
If you're not sure what to look for when buying ground coffee, you've come to the right place. Here are the factors to consider when making a purchase:
Flavor Notes — Start by determining what level of roast you prefer in a coffee: light, medium, or dark. Also, each blend has different hints of flavor. Some are smoky, chocolaty, or nutty. You may find that you like dark roast, but not one with smoky notes. This will narrow down your search for the perfect brew.
Price — If you have a cup (or multiple cups) of coffee every day, price is a consideration when choosing ground coffee. The price doesn't always determine the quality of a coffee, so it's worth experimenting with. You may find that you like a $5 tin of coffee better than a $50 tin. The price tag doesn't determine your taste preference.
Size — Ground coffee can tend to go stale over time when purchased in bulk quantities. If you have many people in your house and go through a large amount of coffee, buying large tins may be fine. If you live alone and only drink a cup or two a day, it may be better to buy smaller bags.
How Much Ground Coffee Should I Brew?
The type of coffee maker that you have, how big of a pot you're making, the grind size, and the strength of coffee that you want all alter how much coffee you should put in the pot. Coffee's Golden Ratio can give you a reliable guideline for most coffee brews: 1 gram of coffee for every 15–18 grams of water. To figure this out accurately, you will need a kitchen scale. A good starting point is 2 tablespoons for every 6 ounces of water.

Conclusion
Kicking Horse Horse Power Coffee is our recommendation for the best overall ground coffee in Canada. This Canadian coffee company is known for its rich flavors and consistent blends of coffee, and the ground varieties are no exception. The best ground coffee in Canada for the money is Folgers Classic Roast. It's a great option for everyday coffee with good flavor at a reasonable price tag.
---
Featured image credit: Redrock Photography, Shutterstock