Anyone who lives their life on the go understands the importance of the right travel mug. If you're like most people, you already have tons of mugs sitting on your counter. Why aren't they the favorite go-to travel mug for you? They simply don't offer everything you're looking for in one mug. Luckily, that's what this review is all about. We've taken a look at the best travel mugs in Canada to determine which ones can keep your drinks hot, cold, and safe while you're on the go. Take a look at our favorites below and see if one of them strikes your fancy.
A Quick Comparison of Our Favourites in 2022
The 7 Best Travel Mugs in Canada:
1.

Yeti Rambler Vacuum Insulated Tumbler – Best Overall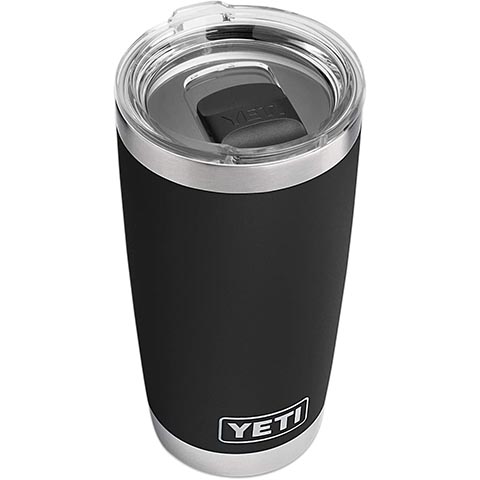 | | |
| --- | --- |
| Capacity: | 20 ounces |
| Material: | Stainless Steel |
Our pick for the best overall travel mug in Canada for 2022 is the Yeti Rambler. This mug isn't only stylish and available in multiple colors but it offers durable construction and up to 6 hours of heat retention to keep drinks hot or cold. You'll also find this mug is shatter-resistant and finished with a DuraCoat to not only make it look great but provide a no-sweat addition drinkers will love.
The only true issue we found with the Yeti travel mug is the lid. While they claim it is leak-proof, we found it is possible to lose liquid if the cup gets tipped or knocked over. Keep this in mind when using it to help avoid issues with stained clothes or burns.
Pros
20-ounce capacity is great for long treks
Features 6 hours of heat retention
Shatter-proof construction
Cons
Lid leaks if tipped or knocked over
---
2.

Contigo AutoSeal Insulated Travel Mug – Best Value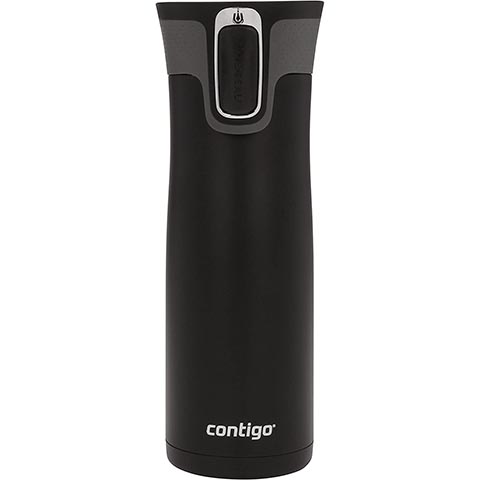 | | |
| --- | --- |
| Capacity: | 20 ounces |
| Material: | Stainless Steel and Plastic |
Our pick for the best travel mug for the money is the Contigo AutoSeal Insulated Travel Mug. We love the fact this mug is affordable and packed with great features. It is made from BPA-free plastic and stainless steel. It will hold up to 24 ounces, has a rubberized grip for easy carrying, and has a snap-close lid to help prevent spills and accidents. Our only issues were with the claims they made of keeping drinks hot for up to 9 hours. Unfortunately, it seems that 3 hours is this value mug's limit. You'll also find that with the height of this cup, it can be a bit difficult to store when you aren't using it. Other than these issues, we felt it was a great mug for the money.
Pros
Affordable
Easy to carry
Machine washable
Cons
Hard to store
Only keeps liquids hot for around 3 hours
---
3.

Yeti Rambler Insulated Mug with Lid – Premium Choice
| | |
| --- | --- |
| Capacity: | 14 ounces |
| Material: | Stainless Steel |
When it comes to travel mugs, it's hard to beat a Yeti, that's why another is coming in as our premium choice. The 14-ounce rambler is a bit costly for its size but that doesn't mean it isn't a tough little mug to take on the go. Considered a great choice for outdoor lovers, this cup has a wide mouth and a spill-proof lid. Like other Yeti products, it features a sweat-proof design and is dishwasher safe.
The only thing we found wrong with this sturdy, little mug is the fact it doesn't retain heat as long as other Yeti products due to its small size and wide mouth. If you aren't planning on carrying around a cup of coffee the entire day, it should work for your basic needs, however.
Pros
Shatter-resistant design
Spill-proof lid
Cons
Expensive for its size
Doesn't keep liquids hot as long as others
---
4.

Hydro Flask Standard Mouth Reusable Water Bottle
| | |
| --- | --- |
| Capacity: | 18 ounces |
| Material: | Stainless Steel |
If you purchase travel mugs and water bottles, most likely you've heard of Hydro Flask. These sturdy mugs are made from professional-grade stainless steel to help with longevity. Liquids in this bottle can stay warm for up to 12 hours making life easier for travelers. We also liked the easy-to-carry handle which makes things much simpler when you are on the go.
The biggest issue with this travel mug is the price. While it could have easily been our premium choice due to its price tag, the size difference between it and the Yeti in that spot came into play. However, even with the high costs, this travel mug does live up to most of the hype it receives.
Pros
Keeps liquids warm for up to 12 hours
Sturdy design
Twist open lid for travel
---
5.

Swig Life Travel Mug with Handle
| | |
| --- | --- |
| Capacity: | 18-ounce |
| Material: | Stainless Steel |
If you want to take your beverages on the go and still feel like you're at home enjoying a cup of coffee, the Swig Life Travel Mug with Handle is the perfect option. This mug can keep cold drinks cool for up to 9 hours. Your hot beverages are good for up to 3 hours. This is done thanks to the double-walled insulation used in construction. We also like the locking lid that keeps spills from being an issue and the multitude of color options you can choose from online.
The biggest issue we found with this mug is the hole where the liquid comes out. It is slightly small and can give those in the hurry for a drink of their favorite beverage a bit of trouble. While this is inconvenient it doesn't truly take away from the style and effectiveness of this cup.
Pros
Keeps liquids cold or hot for extended periods
Features an easy carry handle
Multiple color options
Cons
The drinking hole is slightly small
---
6.

Simple Modern Insulated Travel Mug
| | |
| --- | --- |
| Capacity: | 16 ounces |
| Material: | Stainless Steel |
For those in the market for a compact travel mug, this Simple Modern Insulated Travel Mug is a great option. Like other mugs on the list, you'll find that your liquids stay either hot or cold for extended periods. Thanks to the stainless steel design, you won't need to worry too much about damage occurring from accidental drops. One of our favorite things about this travel mug, however, is the angled drinking spout. This design makes it easy to control the amount of beverage you're receiving with each sip.
The only true issue we found with this travel mug is the size of the opening. While it's nice to have a compact travel mug, clean-up can be a hassle. It is quite difficult to get your hand inside to wash with a dishcloth considering it is hand-wash only.
Pros
Compact size for easy travel
Angled drinking spout for better control
Cons
Hand wash only
The mug opening is quite small making cleanup difficult
---
7.

Zoji Zojirushi Stainless Steel Mug
| | |
| --- | --- |
| Capacity: | 20 ounces |
| Material: | Stainless Steel |
The final travel mug on our list is the Zoji Zojirushi Mug. The reason this stylish mug makes out a list is its ability to keep liquids hot. In that regard, it ranks right up there with the top-of-the-line travel mugs we've discussed. We also enjoy the locking lid that keeps your liquids safely inside the mug. Unfortunately, even with those impressive feats, you will find several issues with this mug as well. It is limited to the types of beverages it can hold. You'll also find that the interior is lined with a coating to make cleaning easier. This lining can be dangerous to some people. If you're simply looking for a mug that keeps liquids hot, this one is a good option. If you want more in your travel mug, it may be best to consider our other options.
Pros
Keeps liquids hot for extended periods
Well-designed locking top
Cons
Has a potentially dangerous lining used inside
Limits the types of beverages carried
---
Buyer's Guide: Choosing the Best Travel Mug in Canada
Now that we've shared our choices for the best travel mugs in Canada, let's learn how these entries were chosen. This will help you better understand our criteria and use them to make a choice that is best suited to your lifestyle.
Material
One of the first things we considered was the material each mug was made from. As you can see, stainless steel is the clear champion in our opinion. Using professional-grade stainless steel makes your travel mug not only sturdier but you'll also find that with a little assistance they can be completely shatterproof. If you plan on spending money on a travel mug, you want it to last for a few years. For this reason, choosing dependable materials in the construction is a must.
Heating and Cooling
A travel mug allows you to take beverages with you wherever you go. They should also keep your drinks at the temperature you want. Whether you plan on carrying a cold drink or a steaming hot coffee, look for mugs that are insulated. This ensures they maintain temperature well and will provide you with several hours of tepid drinks when you want them.
Price
Whether we want to admit it or not, the price of items we buy is always in the back of our minds. We can't deny the fact that most of the travel mugs on our list pack a decent price tag. Unfortunately, if you want a quality mug you can use for years to come, that's the price you must pay. We did include options that are more affordable for those who need a trusted mug but must honor a budget. You'll find that even the lower-cost options on our list have the potential to be a lasting purchase.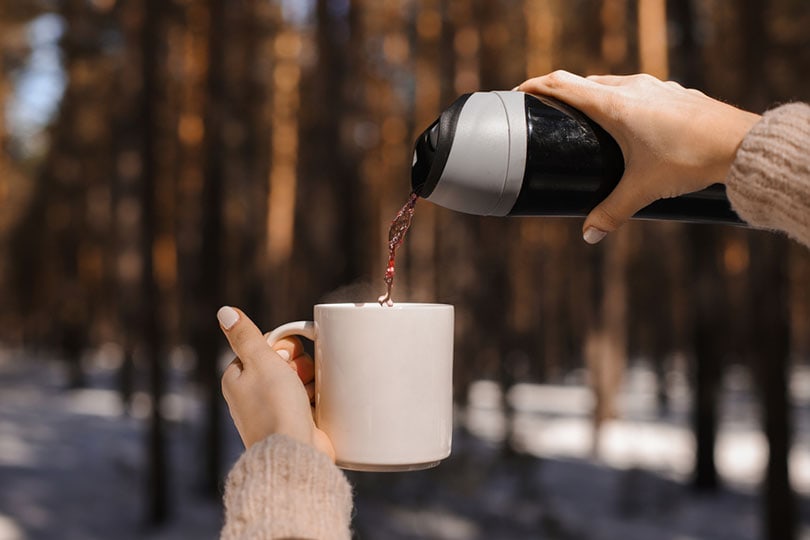 Style
We may not want to admit it, but the last thing we want to do is carry an ugly travel mug. We kept this need in mind as we chose our favorites as well. As you can see, most of the mugs on this list offer multiple colors or sleek designs. This lets you make your way through your daily life without the worries of falling out of style or having people diss your favorite mug.

Conclusion
If you're in the market for a new travel mug, using this review as a starting point is a great way to find one of your dreams. Our pick for the best travel mug in Canada, the Yeti 20-ounce Rambler is an excellent mug to keep your beverages hot and offer years of use. Our best value option by Contigo is sized for a long day and offers the heating you expect at a great price. No matter which mug from this list you choose, you'll feel pleased about your purchase and the effort you put into finding the right one.