While some might decry decaffeinated coffee as being pointless, others appreciate the flavour of coffee without the nervous, shaking, palpitating effects the stimulant can have on our bodies. While decaffeinated coffee is not completely free of caffeine, it has only a very tiny proportion of the caffeine levels found in standard coffees. It can be drunk at any time of day, even by those that are especially sensitive to caffeine, including at night, without the worry of it preventing sleep and interrupting our circadian rhythm.
Unfortunately, the removal of caffeine does mean the removal of some of the coffee flavour, but good coffee producers have found ways to choose and roast beans to ensure as close a flavour to fully caffeinated coffee as possible. And they have made it available in all of the most popular coffee formats, from instant to coffee beans. Below are reviews of 10 of the best decaf coffees in the UK, to help you find a coffee that still satisfies without stimulating.
A Quick Comparison of Our Favourites (Updated in 2022)
The 10 Best Decaf Coffees in the UK
1.

Kenco Decaff Instant Coffee – Best Overall
| | |
| --- | --- |
| Coffee Type: | Instant |
| Volume/Quantity: | 200 grams |
Although not as recognised as Nescafe, Kenco is still one of the most popular coffee brands in the UK and Kenco Decaff Instant Coffee is one of the reasons for its popularity. It is in an instant coffee, which means preparation is as simple as adding hot water and stirring, and it has a smooth flavour without any discernible, lingering aftertaste. It is good value for money, although decaf coffee does tend to be naturally more expensive than standard coffee, and its mild flavour and easy preparation make it our choice as the best available decaf coffee in the UK.
Because Kenco, like a lot of other mass-produced instant coffees, is designed to satiate the tastes of as many coffee drinkers as possible, it is smooth, if a little lacking in character from its flavour.
Pros
Decent price for a decaf instant coffee
Smooth and palatable
Easy to prepare
---
2.

Lavazza Caffe Decaffeinated Ground Coffee – Best Value
| | |
| --- | --- |
| Coffee Type: | Ground Coffee |
| Volume/Quantity: | 8 x 250 grams |
Lavazza makes some very good, affordable coffee, and Lavazza Caffe Decaffeinated Ground Coffee is up there as one of their more notable inclusions. It is a medium roast which, considering the caffeine extraction process as well, means that this is a light flavoured coffee, but it does have some flavour characteristics, including dried fruit notes. The coffee is a medium to coarse grind which means that it is suitable for use in filter machines and French press coffee makers, especially, and it uses beans grown in South America and Southeast Asia. This ground coffee blend is highly thought of and one of the cheapest available, making it the best decaf coffee in the UK for the money.
However, because it is a medium roast and decaffeinated, it does give a very mild flavour that may not meet the desires of those looking to replace a fully caffeinated coffee alternative.
Pros
Light flavour will appeal to many
Very cheap price for a ground decaf coffee
Flavours of dried fruit
Cons
Very mild flavour not enough to wean coffee drinkers away from caffeinated alternatives
---
3.

Simmer Down Decaf Medium Roast – Premium Choice
| | |
| --- | --- |
| Coffee Type: | Ground Coffee |
| Volume/Quantity: | 227 grams |
Simmer Down Decaf Medium Roast is decaffeinated ground coffee, this time from Marley Coffee, which is owned by the Bob Marley family. Although you do have to do a little more than stir it up, this is a ground coffee, which means that you don't need a grinder, and the medium to coarse grind is suitable for cafetieres and filter coffee machines or percolators.
The beans used in the coffee come from Jamaican farmlands and the coffee is certified organic by the Soil Association. Marley Coffee also partners with the One Tree Foundation, which means that they are helping to sustain rainforests and the ecology of the farmed area.
The coffee is expensive and has a very mild flavour, but it does have slight aromas of cocoa, nutmeg, and spices and is also Rainforest Alliance Certified.
Pros
Rainforest Alliance certified and partnered with One Tree Foundation
Organic coffee beans
Aromas of cocoa, nutmeg, and spices
---
4.

San Francisco Bay Decaf Gourmet Blend Whole Bean Coffee
| | |
| --- | --- |
| Coffee Type: | Whole Beans |
| Volume/Quantity: | 908 grams |
The San Francisco Bay Decaf Gourmet Blend Whole Bean Coffee is a bag of medium roast coffee beans grown in Central and South America. San Francisco Bay Coffee Company uses a natural water decaffeination process, which is free from the chemical solvents that can be used in some decaffeinating procedures.
It uses Arabica beans, which are smoother and naturally have less caffeine than Robusta, and the company that makes the coffee claims to have started 63 schools in the communities where their coffee is farmed while also paying towards local medical care, housing, and coffee growing businesses. This decaf whole bean coffee is inexpensive and has flavours of mandarin, chocolate, and almond. But the use by date can be short, and, as with many other decaf coffees, the flavour is a mild one.
Pros
Cheap for whole bean coffee
Flavours of mandarin, chocolate, and almond
Company invests in coffee farming communities and businesses
Cons
Mild flavour
Some issues with short expiration dates
---
5.

Cafepod Craft Coffee Nespresso Compatible Recyclable Aluminium Pods
| | |
| --- | --- |
| Coffee Type: | Coffee Pods |
| Volume/Quantity: | 6 x 10 |
Coffee pods are convenient, easy to manage, and they provide a uniform tasting drink every time you pop one in the machine. But you do need to ensure that the pods you buy are compatible with the type of pod machine you have, and there are some questions over the environmental credentials of using a disposable pod every time you make a coffee.
Cafepod Craft Coffee Nespresso Compatible Recyclable Aluminium Pods contain a mix of Arabica and Robusta beans and Cafepod claim it is a strength 8 out of 10, which means that it is ideal as an espresso, Americano, or for iced coffee.
Rainforest Alliance certified, this coffee has caramel notes and the pods are made from recyclable aluminium, which means that they are better for the environment than plastic and other materials. However, it is worth noting that not all local councils will allow you to recycle the aluminium pods, so this is worth checking first.
The coffee has a reasonably strong flavour, although not as strong as the high rating suggests for these Nespresso compatible decaf pods.
Pros
Pods made from (potentially) recyclable aluminium
Compatible with Nespresso machines
Rainforest Alliance certified
Cons
Aluminium pods are not necessarily recyclable with your local council
Not as strong as the 8 strength rating suggests
---
6.

Taylors Of Harrogate Decaffe Coffee Bags
| | |
| --- | --- |
| Coffee Type: | Coffee Bags |
| Volume/Quantity: | 3 x 10 bags |
Although coffee bags are not that new an innovation, they have yet to really take off in the same way as coffee pods and certainly instant coffee. However, they are convenient, and they represent an easy way to make a proper cup of coffee. Place the bag in your cup, add hot water, and leave it to brew for around 4 minutes. Then, squeeze and remove the bag to enjoy a cup of brewed coffee.
Taylors Of Harrogate Decaffe Coffee Bags have a strength rating of 4 out of 10, which is the same as the company's Rich Italian fully caffeinated coffee. The coffee has a malty flavour with undertones of caramel, and it is Rainforest Alliance certified. It has a decent flavour and is reasonably strong for a decaf, although still not as strong as the rating suggests and there are occasional problems with the bags splitting if directly hit by a stream of hot water.
Pros
Bags are easy to transport and don't require a coffee maker
Flavour of caramel
Rainforest Alliance certified coffee
Cons
Not as strong as the company's other coffees with the same rating
Coffee bags can split if directly hit by a stream of hot water
---
7.

L'Or Decaf Instant Coffee
| | |
| --- | --- |
| Coffee Type: | Instant |
| Volume/Quantity: | 6 x 100 grams |
L'Or Decaf Instant Coffee is a premium instant coffee that contains Arabica beans and has a fruity flavour to it. It has an intensity rating of 5, which is the same as the company's classic coffee line, but lower than their stronger lines, as expected.
As a premium instant coffee, the L'Or is expensive especially when compared to other major brands like Nescafe and Kenco, and this is another decaf that fails to live up to its strength rating. However, it does have a smooth flavour and is a good choice for those that like a mild, smooth coffee, with no caffeine kick.
Pros
Smooth flavoured coffee will appeal to a lot of drinkers
Fruity flavour
Cons
Expensive
Not as strong as suggested
---
8.

Tassimo L'Or Espresso Decaffeinato Coffee Pods
| | |
| --- | --- |
| Coffee Type: | Pod Coffee |
| Volume/Quantity: | 5 x 16 |
Another decaffeinated option from the Douwe Egberts owned L'Or brand, Tassimo L'Or Espresso Decaffeinato Coffee Pods are designed for use in Tassimo pod machines. They are meant to replicate the flavour and intensity of espresso coffee but without the caffeine stimulant effects. Because they are Tassimo, they have the "Intellibrew" barcode system that enables the coffee machine to determine the exact settings required to get the best coffee from the pod, which makes them very easy to use.
They are expensive and the pods are plastic, which means that you do have to dispose of a plastic pod and film every time you make yourself a coffee.
Pros
Caramel flavour
Intellibrew system ensures the right brew settings every time
Cons
Plastic pods aren't good for the environment
Expensive pods
---
9.

Rounton Coffee Sparkling Water Decaff Coffee Beans
| | |
| --- | --- |
| Coffee Type: | Whole Beans |
| Volume/Quantity: | 1 kilogram |
Rounton Coffee Sparkling Water Decaff Coffee Beans are decaffeinated using a sparkling water method of extraction, which means that there are no chemicals or harsh chemicals used during the process. The coffee has flavours of chocolate, nuts, and toffee, but very little caffeine. The beans can be ground to your chosen level of coarseness, which means that these are suitable for all types of coffee machine from espresso maker to cafetiere and the beans are roasted in the UK so are fresher than competitor beans that are roasted around the world before being stored and shipped.
Rounton Coffee Sparking Water Decaff Coffee Beans are a little pricey but the beans tend to be fresher than most and it develops a good crema, but it does have a somewhat sour taste and can be a little flavourless.
Pros
Uses sparkling water decaffeination process, so no chemicals used
Flavours of chocolate, nuts, and toffee are present
Good crema production
Cons
Expensive
Mild flavour
A little bitter
---
10.

Cru Kafe Organic Decaf Coffee Bags
| | |
| --- | --- |
| Coffee Type: | Coffee Bags |
| Volume/Quantity: | 3 x 10 |
Cru Kafe Organic Decaf Coffee Bags contain medium-dark roasted decaffeinated coffee using Peruvian coffee beans. They are rated as strength 5 and are Soil Association and Fairtrade certified. The coffee has side flavours of citrus with floral notes with chocolate and cream.
The bags are easy to use, but they are expensive, and the company uses the carbon dioxide method of caffeine extraction, which means that they do contain a little more of the stimulant than coffee that has been decaffeinated using the Swiss water method, and every bag is individually wrapped while the bags themselves are not compostable, so this is not an environmentally friendly option.
Pros
Certified organic
Fairtrade certified
Cons
Not as decaffeinated as some so may not be ideal for sensitive drinkers
Individual packaging bad for the environment
Expensive

Buyer's Guide: Finding the Best Decaf Coffee in the UK
Coffee is one of the most popular non-alcoholic drinks in the world, loved for its flavour and, by many, for its caffeinated kick. But what if you are sensitive to the stimulating effects of caffeine? Or if highly caffeinated drinks give you heartburn and acid reflux? Decaffeinated coffee is touted as being coffee but with a much lower caffeine content. It is important to note that decaffeinated coffee does still contain caffeine, but typically only between 0.1%–3% of the caffeine of a normal coffee.
Why Choose Decaf Coffee?
Coffee, in general, is not only considered safe to drink in moderation but has several health benefits. It can reduce the risk of diabetes and is packed with antioxidants that can help reduce the chances of developing certain cancers. Decaf coffee has many of the same health benefits, as well as several benefits when compared to fully caffeinated alternatives.
Lower Acidity – Caffeinated drinks can cause stomach pain and cramps in some drinkers. It can also cause gut issues. Decaf coffee has much lower acidity levels, so it is gentler on the stomach. It is less likely to negatively impact your digestive system.
Reduce Acid Reflux – Acid reflux occurs when stomach acids are allowed to flow into the esophagus and it can lead to heartburn and other uncomfortable and painful complaints. Caffeinated coffee relaxes the sphincter at the end of the stomach, allowing stomach acid to flow. Decaffeinated coffee does not have the same effects, so if you find that you suffer from acid reflux after drinking coffee, try switching to decaf.
Fewer Calories – A typical cup of coffee can have between 90 and 100 calories per cup. Even if you drink three cups a day, with no added milk or sugar, that's nearly 300 calories of your daily allowance. Decaf coffee contains only 2 or 3 calories per cup, so even five cups will only increase your intake by 10 calories per day. If you're watching your calorie intake, do avoid additives like milk, sugar, and syrup because these can contain significantly more calories than the coffee itself.
Avoid Caffeine Sensitivity – Caffeine sensitivity can lead to heart palpitations, shaking, sweating, and dizziness, as well as stomach pain and other complaints. Decaf coffee contains a fraction of the caffeine and shouldn't trigger sensitivities in drinkers, unless you are highly sensitive to even the smallest amount of caffeine.
Avoids Insomnia – Whether you're sensitive to caffeine or not, it is a stimulant, and one of its effects is that it increases mental alertness. This makes it very difficult to sleep, and while that's one of the desirable effects of drinking caffeinated drinks during the day, it is much less desirable at night, when you're trying to sleep. Decaf coffee does still contain caffeine, but only in trace amounts, and these should not be enough to keep you awake. Some people switch to decaf in the evenings and enjoy caffeinated coffee during the day.
How Is Coffee Decaffeinated?
Coffee beans are naturally caffeinated, which means that the coffee must undergo an extraction process to remove most of the caffeine. There are several methods used by brewers and manufacturers to do this:
Direct Solvents – Coffee beans are softened by soaking or steaming before being exposed to a liquid that contains methylene chloride or ethyl acetate. After about 10 hours of a repeated exposure cycle, the beans are steamed to remove any remaining solvent. The use of the word solvent and the chemical names used for the solvents make this method sound scary and some people avoid coffee that has been decaffeinated in this way. It is worth noting that ethyl acetate is a compound that is actually found in fruit.
Indirect Solvents – In this widely used method of decaffeination, the beans are soaked in boiling water, drawing out all of the water-soluble compounds, including caffeine. The beans are removed from the water and methyl chloride is added to the water and evaporates the caffeine. The beans are added back to the liquid to soak the coffee flavour and other compounds back up. The beans themselves never come into direct contact with the solvent used.
Carbon Dioxide – Coffee beans are first soaked in water before being placed in a sealed container with compressed carbon dioxide for approximately 12 hours. The dense carbon dioxide soaks up the caffeine and is then passed through an activated charcoal filter before being passed back into the container to extract more caffeine. Once complete, the beans are removed and can be roasted.
Swiss Water – The Swiss water method is becoming increasingly popular, especially with decaf drinkers, because water is the primary solvent used during the decaffeination process. The beans are soaked in a mixture of green coffee and water before being passed through an activated charcoal filter, which removes the caffeine. The mixture is passed repeatedly through the system. This process is considered the cleanest decaffeination process and can remove around 99% of the caffeine from coffee beans.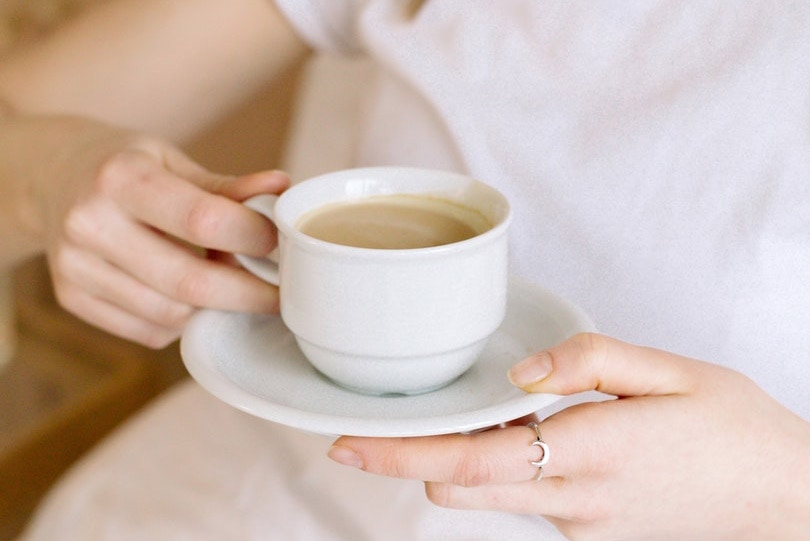 How Much Coffee Is in Decaf?
Depending on the decaffeination technique used, and how often the beans are decaffeinated before being roasted, the process can remove between 97%–99% of the caffeine. This means that a cup of decaf coffee will contain approximately 2 milligrams of caffeine, compared to the 90 milligrams or more in a standard cup.
Coffee Types
Whatever method is used to decaffeinate the beans, once the process is complete, the coffee can be processed in the usual ways. As such, decaffeinated coffee can take any of several forms:
Whole Beans – Whole beans are roasted before being packaged and sold. You need to grind the beans yourself, whether in a separate grinder or in a bean-to-cup machine. This allows you to choose the coarseness of your grind and it means that you use coffee at its freshest, but it does require a special coffee maker or grinder and it adds time to the coffee-making process.
Ground Coffee – With ground coffee, the grinding has already been done for you. The ground coffee can then be placed in almost any type of coffee maker from a moka pot to an espresso machine or cafetiere. However, coffee starts to lose freshness as soon as it is ground, and even vacuum packing the ground coffee does not completely arrest this process, so ground coffee is not usually as fresh as home-ground. It is more convenient, however, and requires less equipment.
Coffee Pods – Coffee pods are a fairly recent innovation. The coffee, which is typically ground although may be instant in some cases, is placed in a plastic or aluminium pod. You place the pod in a compatible pod machine, press the button, and the machine does everything for you. It is even possible to get milk pods or pods that contain both coffee and milk. Pods can be expensive, you do need a machine that is compatible with the type of pod you use, and you are limited by the types of pods that are available, but this is a quick and efficient method of making decent coffee.
Coffee Bags – Coffee bags are not as popular as the other methods, but they are convenient and they do not require any type of machine or equipment other than a kettle or water boiler. Put the coffee bag in your cup, add hot water, allow it to boil, and squeeze the bag before removing it. Bags can be expensive, but you can pop them in your bag and take them to work or to a hotel.
Instant Coffee – Instant coffee is still the most popular method of making coffee at home, in the UK. It is quick, convenient, and inexpensive, although premium gourmet instant coffees do cost a little more. All you need to do is add hot water and stir and you have a cup of coffee.

Conclusion
Decaf coffee has considerably less caffeine than normal coffee, although it does still contain some of the stimulant. It is available in a variety of forms from coffee bags to instant coffee and whole coffee beans, and while it does tend to have a milder flavour, it doesn't have the side effects that caffeinated coffee have and manufacturers have become a lot better at producing great tasting decaffeinated drinks.
Hopefully, the reviews above have helped you find your next cup of go-to decaffeinated coffee. We suggest Kenco Decaf Instant as the best overall because it is cheap, easy to make, and has a smooth flavour. Lavazza Caffe Decaffeinated Ground Coffee is an inexpensive ground coffee that also tastes great and works well in cafetieres and filter coffee machines to give the flavour of coffee without the caffeine.
---
Featured Image Credit: Natalia Belay, Shutterstock