Rushing out to your local coffee shop to grab a great-tasting espresso can get tiresome. Luckily, for Canadian coffee-lovers, there are espresso machines on the market that can make tasty shots in the comfort of your home. Choosing the best one, however, can be difficult. In this review, we try to make things easier for you. We look at all the best features, whether the machines are easy to use, and decide which ones are top-tier for your kitchen. Take a look at our favorites below and decide which of these espresso machines will call your kitchen counter home.
A Quick Comparison of Our Favorites in 2022
The 8 Best Espresso Machines in Canada
1.

Breville L.P. The Barista Touch Espresso Machine – Best Overall
| | |
| --- | --- |
| Capacity: | 81 kilograms, 1.9 kilograms |
| Material: | Stainless Steel |
| Power/Wattage: | 1680 watts |
Our choice for the best overall espresso machine in Canada is the Breville L.P. The Barista Touch Espresso Machine. Whether you are an expert in the world of espresso machines or new to the game, this machine is easy to use and reliable. It helps reduce the practice, and science, behind pulling a perfect shot of espresso. The easy-to-navigate LCD screen walks you through the steps needed to enjoy your steamy beverage. You can even save your preferred settings to make things easier when it's time to make your next espresso.
While we truly love the easy operation of this machine, we must admit, for espresso enthusiasts you may taste a difference. There aren't as many customizations as you may like and the consistency of the froth isn't reliable. Still, it is one of the best machines to use at home.
Pros
Easy to use
Advanced temperature controls
Ready to use in 3 seconds
Cons
Expensive
Customization is not consistent
---
2.

Gaggia Classic Pro Espresso Machine – Best Value
| | |
| --- | --- |
| Capacity: | 21 liters |
| Material: | Stainless Steel |
| Power/Wattage: | 1425 watts |
Our choice for the best espresso machine in Canada for the money is the Gaggia Classic Pro Espresso Machine. This machine provides consistently great espressos, features commercial-grade hardware, and is reasonably priced for its performance when comparing it to other espresso machines you'll find on the market. All these qualities come together in a wonderful machine that makes good espresso and frothy milk.
When compared to our top pick, you'll notice the Gaggia Classic doesn't heat up as quickly. Making a cup of espresso, from start to finish, with this machine takes roughly 5 minutes. While that isn't a deal breaker it is something to keep in mind.
Pros
Affordably priced
Consistent taste and froth
Uses commercial-grade hardware
Cons
Longer heating process
More difficult to master
---
3.

De'Longhi La Specialista Maestro Espresso Machine – Premium Choice
| | |
| --- | --- |
| Capacity: | 100 ml |
| Material: | Stainless Steel |
| Power/Wattage: | 1450 watts |
If money is no issue, our premium choice may be the espresso machine for you. While the cost associated with the De'Longhi La Specialista Maestro Espresso Machine is up there, its features are what bring espresso lovers to this machine. Made by Philips, this machine has specialty settings that allow it to not only make espressos, but also other tasty coffee beverages. Sensor grinding also makes it easy to ensure your beans are ground to the correct consistency each time.
The De'Longhi La Specialista Maestro is a great machine, but it is not for beginners. If you are new to the world of making espresso, this machine may not be for you. It is complicated and takes time to learn. Also, the price, as we previously mentioned, is quite steep for anyone who doesn't plan on using the machine consistently.
Pros
Stylish design
Multiple settings
Lots of features
Cons
Difficult to learn
Expensive
---
4.

Breville Infuser Espresso Machine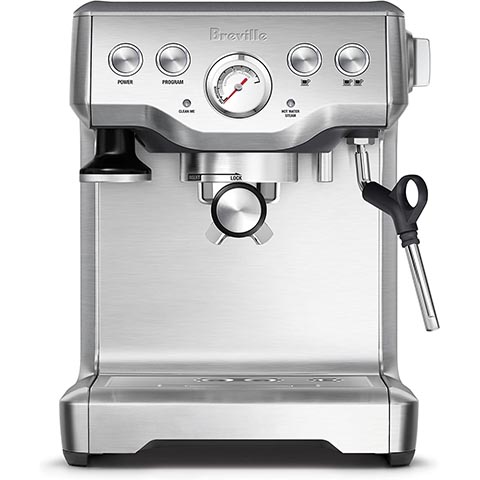 | | |
| --- | --- |
| Capacity: | 73 kilograms |
| Material: | Metal |
| Power/Wattage: | 1650 watts |
This machine is the perfect middle ground for those who want convenience and affordability when it comes to their espresso machines. The Breville Infuser offers a pre-infuser function to help wash your beans before making your beverage. Like others on our list, this espresso maker is programmable and has a save feature to make things easier when you decide you want a cup. This machine is simple and a great way to learn how to make your own espressos in the comfort of your own home.
Our biggest issue with the Breville Infuser is the lack of customization it offers. For this reason, we feel it is better for use by beginners or those new to the love of espressos. Long-time espresso drinkers may not enjoy the setup and fewer features this machine offers.
Pros
Features a pre-infuser function
Saves preferred settings
Uses a PID heating system for accuracy
Cons
Lacks customization options
Not intended for espresso enthusiasts
---
5.

Breville Barista Pro
| | |
| --- | --- |
| Capacity: | 81 kilograms |
| Material: | Stainless Steel |
| Power/Wattage: | 1680 watts |
The Breville Barista Pro has all the features and performance to make it a great espresso machine. Unfortunately, we simply couldn't get past the odd shape of the machine and the amount of space it took up. The built-in conical burr grinder offers users 30 sizes to choose from. You'll also enjoy the programmable settings to make life easier when you're making espresso in the mornings. This is especially true considering the machine can be primed and ready to use in 3 seconds.
As we mentioned, our biggest concern with this espresso machine is the size. It is similar to the ones you would find in a coffee shop and simply doesn't fit in well unless you have a large kitchen and space to spare.
Pros
30 grinder settings available
Programmable settings
Heated and ready in 3 seconds
---
6.

De'Longhi Dedica Slim Espresso and Cappuccino Machine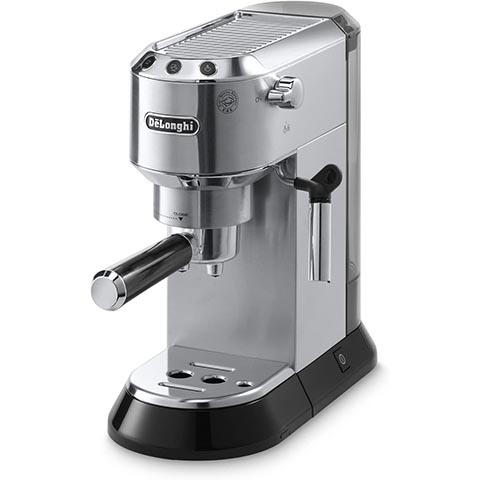 | | |
| --- | --- |
| Capacity: | 1 liter |
| Material: | Stainless Steel |
| Power/Wattage: | 1 watt |
The De'Longhi Dedica may be one of the smallest espresso machines out there, but that doesn't change its performance. This maker comes with everything you need for a great cup of espresso. You'll find a 15-bar pump, a dependable portafilter, and an adjustable steam wand to make your life easier. You'll also love the price of the espresso maker as it is quite affordable for beginners.
Where issues arise with the Dedica are foam and time. It is a struggle to make this machine perform a double-shot in a short period. You'll also find it takes roughly 5 minutes to brew from start to finish. Our other issue was with the frothing wand which was not consistent and isn't up for the fun of artsy espressos.
Pros
Affordable
Great features and hardware
Cons
Lengthy brew times
The adjustable frother isn't dependable
---
7.

Breville Bambino Plus
| | |
| --- | --- |
| Capacity: | 1.81 kilograms |
| Material: | Stainless Steel |
| Power/Wattage: | 1560 watts |
Breville is a major name when it comes to home espresso machines. Like the other entries on our list, the Breville Bambino Plus features a thermojet heat system that helps get your shot of espresso to the perfect temperature in only a few seconds. Where this machine is different from Breville's other offerings is the size. This is a compact espresso maker that is perfect for smaller areas like apartments or dorm rooms. If you want a decent cup of espresso, then this machine is the perfect size for your life.
While this espresso maker is a great option, you will struggle to pull consistent shots. This system doesn't offer the additional functionality of other Breville machines which leaves you doing a lot of eye-balling and test runs to get things just right. If you have the time and patience, this machine will do what you need once you figure it out.
Pros
Features a thermojet heat system
Compact size
Cons
Pulling consistent shots is a struggle
Takes time to master
---
8.

Mr. Coffee Café Barista System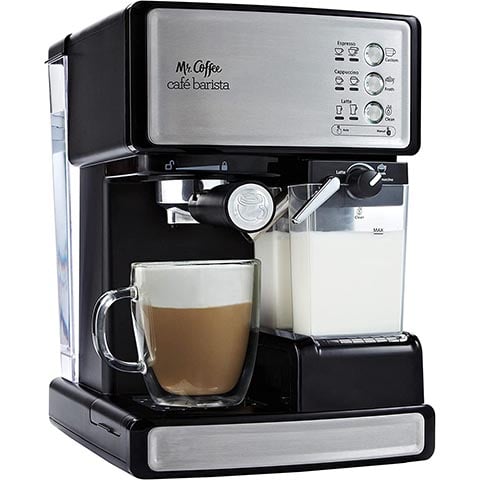 | | |
| --- | --- |
| Capacity: | 40 ounces |
| Material: | Stainless Steel |
| Power/Wattage: | 1040 watts |
If you're looking for an espresso maker that covers all the basics and is affordable, the Mr. Coffee Café Barista may be your new best friend. It comes with a 15 bar pressure pump, accessories such as a scooper and a plastic tamper, and an automatic frother. Unfortunately, even with the basics covered, you won't find this machine to be at the top of the tier. However, considering it is easy to use and affordable to most budgets, we felt it should be included in this review.
Our biggest issues with this machine are the frother and the water tank. The tank is extremely difficult to open and close. The frother, like others we've reviewed, isn't consistent and most of the foam produced is lackluster. Still, it is possible to make a tasty espresso from this machine with due diligence.
Pros
Great features
Easy to use
Affordable
Cons
Froth is lackluster
The tank is angled and difficult to open and close
---
Buyer's Guide: Finding the Best Espresso Machines in Canada
Now that we've shown you our 8 favorite espresso machines in Canada, let's take a look at why they made our list. This handy buyer's guide can help you better understand the things you should consider when buying your next espresso maker.
Features
We all love extra features when buying new gadgets for the kitchen. An espresso machine is no different. When browsing Amazon for the one best suited for your kitchen, you'll notice several features most espresso lovers simply can't do without.
Grinders
Yes, having a grinder for your beans is a must. If you don't have one around your kitchen already, you'll find that several options on our list come with a built-in grinder to make your life easier. If this isn't something you're looking for, then, by all means, choose a different grinder and continue on your way. That's the beauty of features, you can choose the ones you want.
Frother
Just like the grinder, a frother is something some espresso lovers must have. If you fall in this category, and a simple shot of espresso isn't enough, then we have options for you. Many of the machines we shared in this review feature their own frother. Keep in mind, however, that if you're looking for barista-quality foam and style, you may need a bit of practice. You'll also notice some machines have a more consistent frother than others so be aware of this when you make your purchase.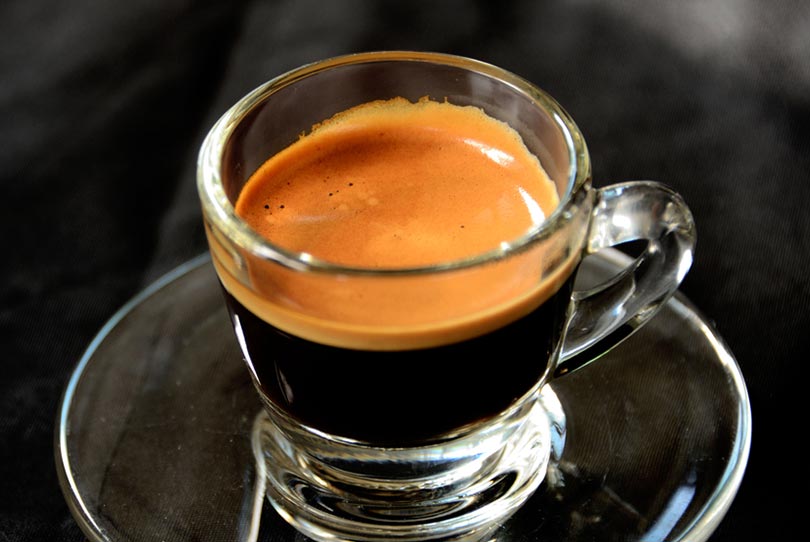 Ease of Use
Whether you consider yourself a connoisseur when it comes to espresso or a newbie, learning a new machine is difficult. When reviewing the espresso machines included in our review, we took this into mind. Good displays, easy-to-follow directions, and a brewing process that renders good results are all expected in a trusted machine. You'll notice that we mentioned which makers were more difficult to work with and which were simple to learn. If you aren't a fan of mastering a new machine, stick with those that are easier to use and you'll be enjoying your espresso in no time.

Conclusion
If you're in the market for a new espresso machine in Canada, this review should get you on your way to choosing the right one for you. Our favorite and best overall, the Breville Barista Touch is easy to use and makes high-quality espresso. If you're on a budget, no worries. The Gaggia Pro is affordably priced and is made with commercial-grade components. Either of these machines would be a great addition to your home.